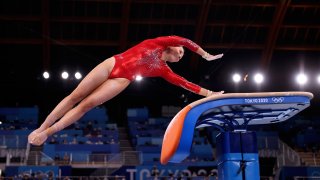 After an exciting week in the pool, the timed swimming events came to an end at the Tokyo Olympics. Caeleb Dressel won his fourth and fifth gold medals in the men's 50m freestyle event and the 4x100m medley relay, setting an Olympic record in the process. Plus, Suni Lee, MyKayla Skinner, and Jade Carey competed in the individual events finals.
MyKayla Skinner takes silver in individual vault final
After missing out on qualification earlier in the week, MyKayla Skinner will stand on the podium in vault finals. Skinner stepped in for Simone Biles after she posted the third best vault score in qualification, and she did not disappoint.
Her 14.916 earned her a silver medal in individual vault finals. Brazil's Rebeca Andrade won gold, and South Korea's Yeo Seo-Jeong won bronze.
American Jade Carey finished eighth.
On bars, all-around gold medalist Suni Lee added a bronze medal to her collection with a score of 14.500.
Belgium's Nina Derwael won gold with a score of 15.200, while Russian Olympic Committee's Anastasiia Iliankova won silver with a score of 14.833.
On the men's side, Yul Moldauer came in sixth place on floor exercise, and Alec Yoder came in sixth place on pommel horse.
If you missed it, you can stream a replay of the events here.
Caeleb Dressel gets 5th gold medal, sets Olympic record in Tokyo
The final day in the pool at the Tokyo Olympic Games featured Caeleb Dressel in two more medal events. He won a gold medal and set an Olympic record in the process during the 50m freestyle event. Then, he and his teammates won gold in the 4x100m medley relay, bringing his medal count to five.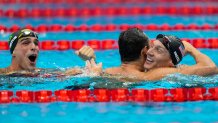 The five-time Olympic gold medalist won his fifth gold medal at Tokyo in the men's 4x100m medley relay. Team USA finished with a time of 3:26.78 and Great Britain trailed behind, finishing with a time of 3:27.51.
Dressel is the second athlete to win five gold medals at a single Olympics since 1992, joining former teammate Michael Phelps. He set the fastest qualifying mark in the 50m freestyle, while Team USA has won gold in the men's 4x100m medley relay in all 15 Olympics where it has competed in the event.
The day's session also featured three more finals: the women's 50m freestyle, men's 1500m freestyle and women's 4x100m medley relay. In the 50m freestyle, American Abbey Weitzel came in eighth place with a time of 24.41. Australian favorite Emma McKeon took gold with a time of 23.81, setting an Olympic record in the process.
In the men's 1500m freestyle, Robert Finke took gold after posting the second-fastest time in the heats. Mykhailo Romanchuk of Ukraine took silver and Florian Wellbrock of Germany took bronze.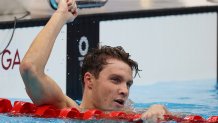 Finke came from behind on the final lap like he did when he won gold in the 800m freestyle.
As he said after the 1500m, "I texted my coach after the 800, telling him he has no idea I had him yelling at me in my head to switch gears for that last 50. That's where I got it -- my coaches constantly yelling at me to come home."
The U.S. won silver in the women's 4x100m medley relay, an event where the American team set a world record in 2019. The team finished 0.13 seconds behind Australia, which took gold in a very close race.
Watch highlights from the final day in the pool here.
Canadian Huskies on the court in Tokyo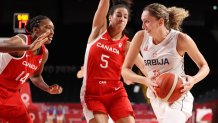 UConn has a lot of alums competing in the women's basketball tournament in Tokyo, but not all of them play for Team USA.
Kia Nurse and Aaliyah Edwards represented their home country of Canada at the Olympics.
Team Canada got off to a shaky start, opening with a loss to Serbia before rebounding with a win against South Korea. They lost to Spain 76-66 Saturday night, leaving their hopes to move on to the quarterfinals up in the air.
You can see highlights from the game by watching Kia and Aaliyah and the rest of Team Canada here.
Yale sailor looks to put his team in medal contention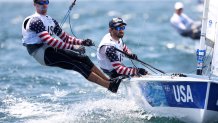 The Olympic sailing events are comprised of a number of races over a span of several days. No one race in the qualifying heats can win you a medal, but it's important to be consistent and accumulate points from each race.
Stu McNay, a 2011 Yale graduate, and his teammate, David Hughes are in 11th place after eight races in the men's two-person dinghy 470 class event.
Their position didn't change in races six and seven early Sunday morning
Only the top ten teams will make it to the gold medal race on Wednesday. McNay and Hughes have two races left to move up and get themselves into the medal race. those races will take place early Monday morning.
You can see a replay of Sunday's races here.
Krysta Palmer wins bronze in 3m springboard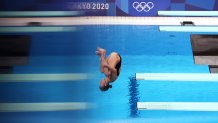 American Krysta Palmer won bronze in the women's 3m springboard in Tokyo Sunday morning.
Palmer scored 343.75 points on five dive attempts, landing a 73.10 dive on her final attempt to clinch a podium spot in her first Olympic Games.
The 29-year-old Palmer won the 3m springboard at the U.S Olympic trials and actually didn't start diving until she was 20-years-old. She competed in gymnastics for several years and trampoline before starting her diving career.
After competing in diving for just 10 years, Palmer has reached the pinnacle of the sport as an Olympic medalist.
China's Shi Tingmao and Wang Han finished first and second atop the podium.