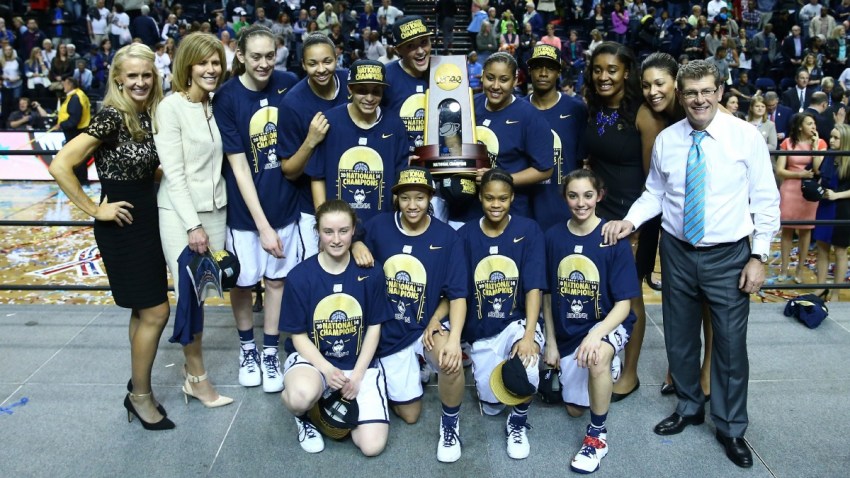 Top-ranked UConn begins its quest for a 10th national championship and third in a row by hosting what amounts to a Big East reunion in the Albany Regional.
The Huskies are one of five teams in the region that were part the old Big East Conference, which split after the 2012-13 season leaving UConn and several others in the American Athletic Conference.
UConn is joined by third-seeded Louisville, which left the American for the ACC before this season; sixth-seeded South Florida, the runner-up in the American; eighth-seeded Rutgers, now in the Big Ten and ninth-seeded Seton Hall, which is still a Big East team.
The Huskies, Scarlet Knights and Pirates all open play in Storrs on Saturday.
"I wish we had gotten some different teams that we didn't know," UConn coach Geno Auriemma said. "The NCAA Tournament is supposed to be about playing teams that you don't know that well. You couldn't find some other region to put the second-best team in our conference? So, some things just don't make sense."
The No. 2 seed in the region is also a familiar foe. UConn has been in the same regional with Kentucky in three of the past four years. The Huskies beat the Wildcats in the regional final in 2012, 80-65 and in 2013, 83-53.
The Huskies beat Louisville for both the AAC title last year and the national championship in 2013. The Cardinals have a possible second-round reunion with South Florida and could play a regional semifinal against in-state rival Kentucky. So, coach Jeff Walz said he's not about to start worrying about possibly meeting the Huskies in a regional final this season.
"UConn, Rutgers, Seton Hall, South Florida, us, it's a pretty good mix of the old Big East," he said. "It shows how good that conference was."
The only unfamiliar foe in the Storrs subregional is St. Francis, Brooklyn, the Huskies' first-round opponent. The Terriers come in at 16-18, the 10th team to make the NCAA Tournament with a losing record. They won the Northeast Conference tournament with three straight road wins as the conference's fifth seed. Their top player, Sarah Benedetti, is from Canton, Connecticut.
UConn has won its 17 first-round games as a No. 1 seed by an average of 47.5 points. Their second-round games have not been much closer, the past 10 have been decided by an average of 32.3 points. The Huskies have been winning games this season by an average of 42 points.
But star forward Breanna Stewart said that doesn't mean her team is not battle tested.
"We've played South Carolina; we've played Duke," she said. "We've played the teams that are considered the top teams in the country. Obviously, we know how to play tough competition."
Copyright AP - Associated Press