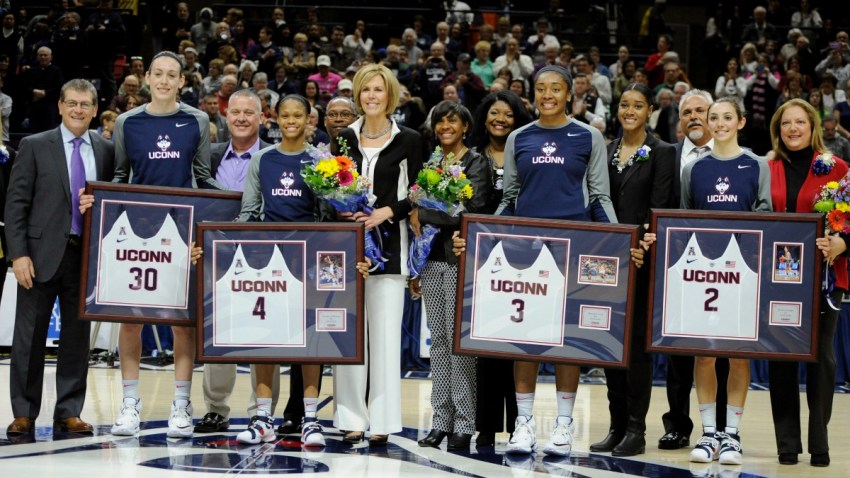 Freshman Katie Lou Samuelson scored 21 points on senior day to lead top-ranked UConn to an 80-40 win over Tulane on Saturday.
Breanna Stewart added 20 points and 12 rebounds for the Huskies (28-0, 17-0 American), who extended the third longest winning streak in program and women's NCAA history to 65 games.
Kolby Morgan had 19 points for Tulane (19-10, 10-6), which jumped out to a 13-2 lead after the clearly emotional Huskies missed their first 12 shots.
The Huskies were behind 13-8 after a quarter, then outscored Tulane 72-27 the rest of the way.
UConn honored Stewart, Moriah Jefferson, Briana Pulido and Morgan Tuck before the game. The trio got off to a slow start, going a combined 5-of-24 from the field in the first half.
Meanwhile, the freshman Samuelson hit four of her seven first-half shots, all from behind the arc.
UConn took its first lead at 17-16 in the second quarter on a 3-pointer by Samuelson and it was 36-20 at the half after she buried two more, the second at the buzzer.
She tied her season high for the second consecutive game on her sixth 3-pointer, a shot that gave the Huskies a 51-24 lead in the third quarter.
The 11-point deficit was the largest for UConn this season and the first time the Huskies were down by double digits since trailing Notre Dame by 10 points in South Bend in December, 2014.
The Huskies outscored Tulane 28-12 in the paint and forced 21 turnovers.
Stewart's double-double was the 37th of her career and 12th this season. She hit just two of her 12 shots in the first half, but was 4 of 4 from the floor in the second.
Jefferson had five assists and now has 603 assists and 333 steals. She joins former national player of the year Jennifer Rizzotti as the only UConn players to record 600 assists and 300 steals in a career. Rizzotti finished her career with 637 assists and 349 steals.
UConn's seniors are 141-5 over their four seasons. If they go on to win a fourth straight national championships, they will break the record for wins by a single class with 151. Maya Moore's class, which graduated in 2011 had 150 wins.
UConn added plaques for Jefferson and Stewart to the school's "Huskies of Honor" wall, which now includes 18 women's players who have been first-team All Americans.
Tuck lost most of her sophomore season to a knee injury and is technically a red-shirt junior. She has not announced if she will return next season or make herself available for April's WNBA draft, where she is projected as a top-five pick.
Tulane needs one more win to earn a seventh straight 20-win season. They came into Saturday tied for fourth place in the conference, but would be the fifth seed in the upcoming American Athletic Conference Tournament if they remain tied with Memphis after Monday.
TIP-INS:
Tulane: Kolby Morgan has scored 19 or more points in her last seven games. She was 8 of 16 from the floor against the Huskies.
UConn: Stewart has scored in double figures in every game this season and has now scored 10 or more points in 125 games, moving her into 13th place in NCAA Division I women's basketball history when it comes to double-figure scoring efforts... Chris Dailey, UConn's associate head coach, also was added to the "Huskies of Honor" wall. She has been with Geno Auriemma for all 31 seasons, 945 wins and 10 national titles.
UP NEXT:
Tulane: The Green Wave close the regular season at home Monday against Cincinnati
UConn: The Huskies host No. 21 South Florida on Monday.
Copyright AP - Associated Press