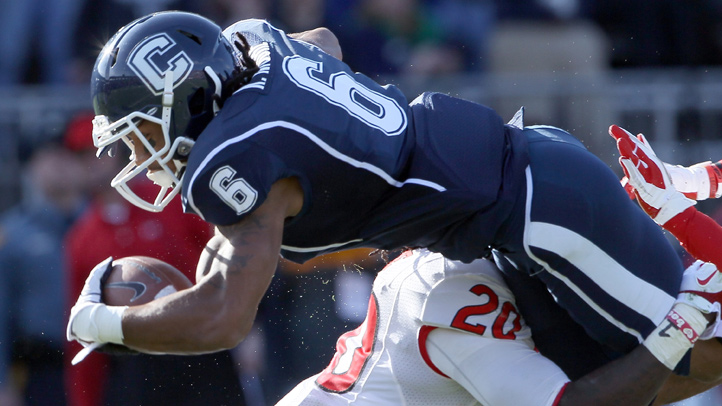 It's probably fair to say that if the Huskies played previously like they did against Rutgers Saturday they'd not only be a legitimate bowl team, they'd be in the mix to defend their Big East title. It's certainly hard to argue with that line of thinking, but here's something else to consider: the 2011 Huskies are young -- extremely young -- especially on offense. If they played the previous 10 games like they did against Rutgers, that would've been a bigger surprise than their late-season run to a conference title and a BCS bowl appearance a year ago.

Remember: there were continuous calls for the first two months of the season for head coach Paul Pasqualoni to bench Johnny McEntee. And for good reason: McEntee looked overwhelmed and out of sorts on a weekly basis. But Pasqualoni stuck with him, and found a way to get Scott McCummings (UConn's freshman QB who specializes in running the ball) more snaps, too.

Against Rutgers, McEntee finished 11 of 16 for 90 yards and McCummings was 1 for 1 for 22 yards and he rushed for two scores. Not exactly reminiscent of those halycon Dan Orlovsky aerial assaults, but McEntee looked as composed in the pocket Saturday as he had all season. The numbers belie just how well he played.

"What we've been on film really isn't us," McCummings said, via the Hartford Courant. "The coaches challenged us to play like we know we can play."

Hearing that quote prior to the weekend might evoke laughs from people who know better, but the Huskies played their most complete game of the season against the Scarlet Knights. Whether it lasts remains to be seen, but at the very least it should give fans hope. If not for this year, then for 2012. But there will be plenty of time to reflect on Pasqualoni's first season. For now, UConn still has a chance to play in a bowl and it comes down to their final regular-season game, on the road against Cincinnati.

Six wins would make them bowl eligible, would run their record to 4-3 in the conference, and also give UConn back-to-back wins for the first time all season. As the Courant's Desmond Conner notes, six wins is necessary but not sufficient for a bowl bid.

"The Big East has five bowl tie-ins (Belk, Pinstripe, Compass, Beef O'Brady and Liberty) after the automatic BCS bid to the league champ and the Champs Sports Bowl to the No. 2 or Notre Dame," Conner wrote Sunday. "Champs would take a good Notre Dame this year, but half of the teams in the Big East are already bowl eligible. The other four teams have five wins going into the final week. Two of them — Pittsburgh and Syracuse — play each other on Saturday in Pittsburgh, with the loser done for the season."

But that is out of UConn's hands. All that matters is beating the Bearcats and then worrying about the postseason.

"There's no sense in thinking or speculating or getting into anything other than we've got another conference game," Pasqualoni said. "[Cincinnati] has one of the best records in our league. They're a very good team in all phases, and in order for us to be competitive and to compete in this game, we're going to have to be prepared and ready to go. It has to be that kind of approach. It's not a lot different than what you as a coach try to do every single week. There may be just another distraction or two but we can't — I can't — let those creep in.

"There's enough on your plate. We have so much to do every single day of the week and before we know it; it will be Friday and we'll be leaving for Cincinnati and it will be noon on Saturday and we'll be kicking the ball off. We've got a lot to do and not a lot of time to get it done."