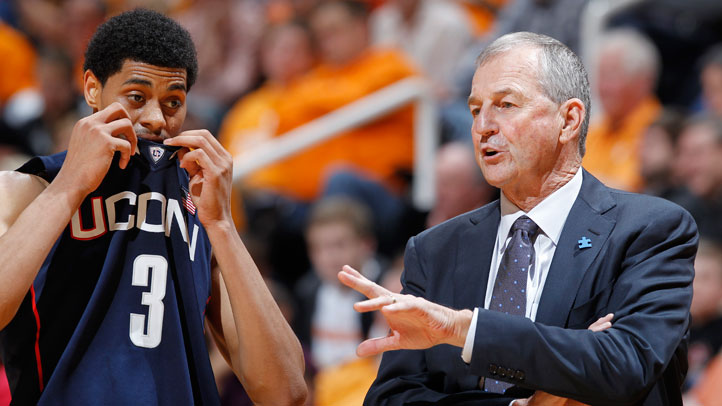 A year ago, Jim Calhoun wouldn't reveal his future coaching plans until well into the summer. Ultimately, as many people suspected, he returned for at least another season (landing Andre Drummond probably didn't hurt when it came time to make a decision). Now 70 and with the program in flux, it wouldn't be hard to imagine that Calhoun might finally retire and leave the rebuilding process to someone else. But that's not Calhoun's M.O.; he's stated previously that he wants to make sure the program is in good shape before he rides off into the sunset.

And that explains why, according to athletic director Warde Manuel, Calhoun will be on the bench for the 2012-13 season.

Two words encapsulated that perfectly during a recent media session: "Yes" and "no."

The former was in response to the question: "Is Calhoun going to coach next season?" The latter was the answer to this query: "Is there any doubt in your mind about that?"

Manuel continued (via the Hartford Courant's Jeff Jacobs): "All indications to me, in conversations, yeah. I haven't worried about that based on our conversations. I don't have any doubt."

So there's that. But before Manuel took over as AD in March, it was widely assumed that Calhoun was grooming his replacement, likely assistant Kevin Ollie. But in May, Manuel made it clear that there would be no coach-in-waiting scenario at UConn.

"Jim's going to participate in the future direction of the program when he decides that he's not going to coach anymore," Manuel told the AP at the time. "But at this time, I haven't made a commitment to a coach-in-waiting. That doesn't mean that in the future I wouldn't change my position. But right now, I'm not naming a coach-in-waiting for men's basketball or any program."

Now, some four weeks later, and nothing appears to have changed.

" I want to have the opportunity to figure out what's best for us," Manuel said. "To make sure we are not shutting ourselves off to a broad-based search for what's in our best interest. That doesn't mean I don't have the right to change my mind."

"Jim and I have had great conversations. I've gotten to know his staff. I could very well change my mind about it. But philosophically, it's just one of those positions I have not gotten comfortable with, cutting off the options. It's not anything more than that. It's not that I've made a decision on anybody on the staff. I love the staff. I've grown to love Jim, in getting to know him."

But that's a conversation for another time. For now, the immediate future of the Huskies is what's important.