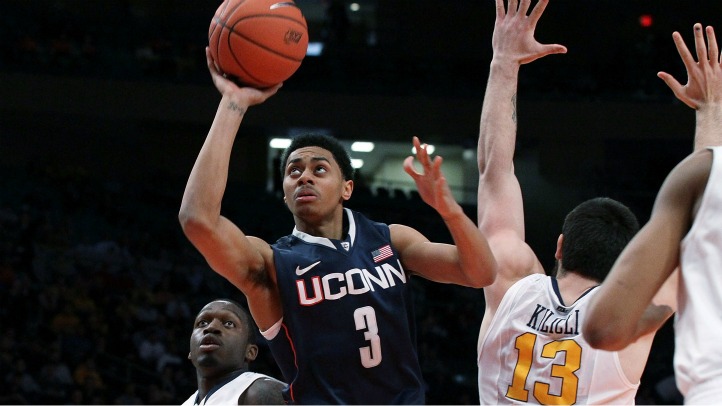 Former Providence coach-turned-analyst Keno Davis said something earlier this week that caught us off guard: "UConn is an intriguing team to play, because you worry that you might be getting them at their peak — after all the distractions that team's had this season."

It's a perfectly reasonable statement 12 months ago, days after the Huskies reeled off five wins in five days to capture the Big East Tournament title. But the 2011-12 version of this team lost nine of 12 before Jim Calhoun returned in the regular-season finale after missing nearly a month with back trouble. They won three of their next four, and played better during the stretch, but it's not like they've suddenly morphed into a consistent team of grizzled veterans.
But then we saw this from Sports Illustrated's Andy Staples and maybe the experts know something we don't about UConn's NCAA Tournament chances.
Kemba Walker is gone, and the Huskies make a lot of questionable choices on the court, but no one wants to play UConn right now.

Remember, the Huskies nearly upended top-seeded Syracuse in the Big East tournament last Thursday. If they had, they might have repeated their 2011 feat of five wins in five days and entered the NCAA tournament on a massive high.

This team isn't as good as last year's, but Jeremy Lamb, Alex Oriakhi and company have beaten Kentucky on the big stage. …The Huskies are 3-1 since (Calhoun's) return, and the only loss was a 58-55 defeat at the hands of a No. 1 seed. Few thought UConn could pull off a national title last year, but the experience many of these Huskies gained winning the tourney could tear apart some brackets this year. Of course, given its more recent history, it's entirely possible Connecticut could do something boneheaded and lose to Iowa State -- an intriguing collection of transfers and under-recruited players coached by former Cyclone Fred "The Mayor" Hoiberg.
Staples is right, we shouldn't dismiss the loss to Syracuse. It's the second close call the Orange had against UConn this season and perhaps it portends good things to come for the Huskies. The worry -- as Staples points out -- is that you're never sure which Huskies team will show up. Would anyone be shocked if Iowa State won by 15?
But maybe Calhoun really is the difference; the team is playing with a sense of urgency since he returned to the bench and the situation is now as urgent as it gets: lose and you go home. The Huskies have big-stage experience and maybe now is when they start to draw on it.