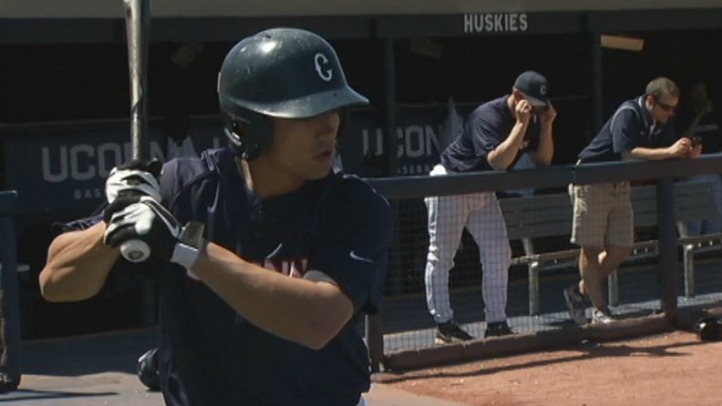 There were a lot of firsts for the UConn baseball team Sunday in Clearwater, Fla. after they defeated Notre Dame, 8-1. The Huskies became the first Big East No. 8 seed to win the conference tournament, and coach Jim Penders became the first person in Big East history to win the conference championship as both a player (1994) and a coach.

Perhaps more improbably, the Huskies -- much like their 2011 basketball counterparts -- got red-hot in the postseason, looking more like a national powerhouse than middling Big East outfit. Penders' group, the lowest seed in the tourney, went 4-0 against top-seeded Louisville, USF, Rutgers and Notre Dame. During the regular season, UConn was 1-11 against these same teams.

Against the Fighting Irish on Sunday, junior Anthony Marzi allowed just four hits over eight innings with six strikeouts -- while working on two days' rest -- to lead the Huskies to the Big East title.

South Florida had roughed up Marzi on Thursday and he was looking for redemption.

"I had a sour taste in my mouth after Thursday's outing," the junior told ESPNU after the game. "I just wanted to be a part of it, do something to help this team win a championship."

Penders added, via the Hartford Courant: "We saved the best for last, and it was nearly flawless baseball. It was fun to watch. And we swung the bats better than we have all year. …

"I'd never dreamed of winning a Regional," Penders continued, via the Courant, "but I'd dreamed of winning a Big East Tournament since I was 13 years old. To get the last one they're going to hand out, it's really special. I haven't been able to get the smile off my face."

Two years ago, the Huskies were the No. 1 seed in the Big East but lost the conference tournament before heading to the NCAAs and reaching the Super Regionals. Now UConn is assured a place in the NCAAs, this time in the Blacksburg, Va. Regionals. According to the Connecticut Post, the Huskies are grouped with Virginia Tech, Oklahoma and Coastal Carolina. As the No. 4 seed, Conn (34-26, 9-15 Big East) faces top-seeded Virginia Tech Friday at 5:30 p.m. ET.