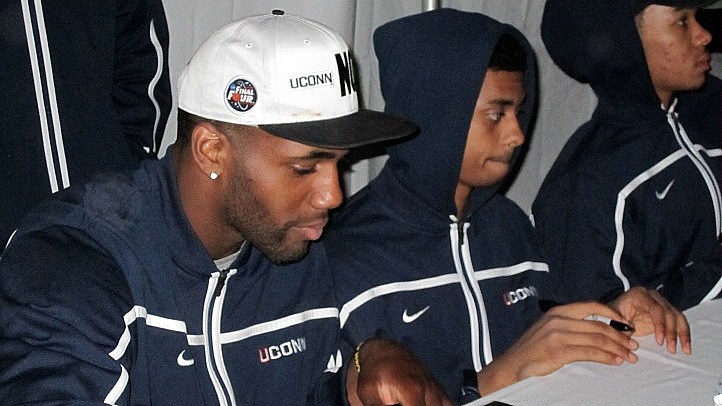 The Los Angeles Athletic Club announced its Wooden Award preseason top 50 nominees Monday and two Connecticut Huskies -- sophomore Jeremy Lamb and junior Alex Oriakhi -- have made the list.

Via the press release (you can see all 50 nominees here):

"For the first time, a school had four players chosen to the Preseason Top 50 when North Carolina returners Harrison Barnes, John Henson, Kendall Marshall and Tyler Zeller were selected. Ohio State (Sullinger, William Buford and Aaron Craft) and Vanderbilt (Festus Ezeli, John Jenkins and Jeffery Taylor) had three players chosen. Six schools, all perennial top programs at the national level, had two players named to the Preseason List: California (Jorge Gutierrez, Allen Crabbe); Connecticut (Jeremy Lamb, Alex Oriakhi); Memphis (Will Barton, Joe Jackson); Syracuse (Scoop Jardine, Kris Joseph); and UCLA (Reeves Nelson, Joshua Smith)...
"Created in 1976, the John R. Wooden Award is the most prestigious individual honor in college basketball. It is bestowed upon the nation's best player at an institution of higher education who has proven to his or her university that he or she is making progress toward graduation and maintaining a minimum cumulative 2.0 GPA. Previous winners include such notables as Larry Bird ('79), Michael Jordan ('84), Tim Duncan ('97), Candace Parker ('07 and '08) and Maya Moore of Connecticut ('09 and '11). BYU's Jimmer Fredette won the men's Award in 2011."

Given how the 2010-11 season played out, it's hardly surprising that Lamb is a preseason finalist. But as recently as February and early March, it wasn't yet clear that Lamb would be the force he became during the Huskies' postseason run (not to mention his coming out party with the U-19 US National Team this summer).

Oriakhi also struggled at times last season, but like everyone else on the team, he played some of his most consistent basketball during late March and early April.

ESPN.com's Andy Katz spoke to an anonymous Big East coach for his thoughts on Lamb's and Oriakhi's selection.

On Lamb: "I've never seen a player improve from the beginning of the season to the end of the season like Jeremy Lamb did really within the last two months of the season. He's a tremendous shooter and rebounder for a guard. He's another great pro prospect."

On Oriakhi:"He's one of the best big men in the Big East returning. He's gotten better each year. It's hard to say this with Andre Drummond there, but he probably thought he'd get more offensive opportunity with Kemba Walker gone. But he's as good a defensive rebounder as there is in the Big East."

Coincidentally, UConn head coach Jim Calhoun spoke about Kemba Walker Monday morning at the Middlesex Chamber of Commerce breakfast. Specifically: what the Huskies will look like without one of the best players in school history (via the Hartford Courant):

"There will probably be times when George [Blaney] has to remind me, 'coach, you don't have Kemba any more.' ... It's going to be a completely different team, the season's not going to break the same way. The chemistry has to change, we've lost a wonderful leader."

Most years, losing Walker would be devastating. And Calhoun's right -- there will no doubt be times when he wishes Kemba was on the floor. But having Lamb, Oriakhi, a strong supporting cast in Shabazz Napier and Roscoe Smith, as well as one of the best freshmen classes in the country goes a long way in making up for it.
Freshman big man Andre Drummond is expected to be a big part of any success UConn might have this season, so this is good news: last week there was some concern that his eligibility could be in question after he appeared in a video promoting Adidas footwear. The university released a statement on the matter Monday:
"UConn has officially concluded that no violation has occurred and that freshman Andre Drummond will suffer no eligibility consequence relative to the report last week about an online video."