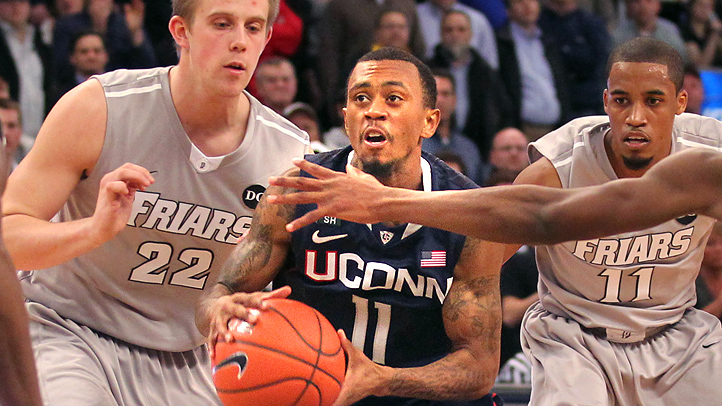 Ryan Boatright scored 19 points and Shabazz Napier had 18, including eight in overtime, to lead Connecticut to an 82-79 victory over Providence on Thursday night.
Napier and Omar Calhoun hit 3-pointers in overtime to give the Huskies (14-5, 4-3 Big East) a 79-76 edge with 42 seconds left. Napier hit 3 of 4 free throws in the final 30 seconds to secure the victory.
"We played like a UConn team in the second half," said Connecticut coach Kevin Ollie. "That's the team I want to coach right there."
DeAndre Daniels also scored 18 points for UConn, whose 50 percent shooting (27 of 54), including 52.9 percent (9 of 17) outside the 3-point line, proved too much for Providence (10-11, 2-7), which shot 33.8 percent (22 of 65).
"You're not going to win many games with teams shooting 50 percent against you," said Providence coach Ed Cooley.
The Friars' 55-24 rebounding advantage prevented Connecticut from establishing much momentum, Ollie said. "You can't run without getting rebounds."
Neither team led by more than three points during the second half, when Boatright scored 12 of his points. Bryce Cotton's 3-pointer with 1:30 left pulled Providence into a 66-66 tie, and LaDontae Henton's layup with 18 seconds remaining for the Friars sent the game to overtime.
After a tough second half for the Huskies, "we found a way to dig deep" and pull out a win in overtime, Ollie said. He added that he was disappointed with his team's 19-for-27 free throw shooting (70.4 percent), though he conceded Napier made them when they counted.
UConn took an early 12-3 lead, as Providence didn't get its first field goal for 5 minutes. A 9-1 run put the Huskies ahead 25-10, but Providence scored the next eight points and closed the half with a 12-3 run to trail 33-32.
Cooley attributed Providence's defeat to its slow start, as well as stellar Connecticut shooting. "I thought it was a great college basketball game," he said. But "the transition defense wasn't very good early."
Kadeem Batts scored 20 points and Cotton 18 for the Friars, and LaDontae Henton had a double-double with 15 points and 13 rebounds. The Friars distinguished themselves from the line, shooting 82.1 percent (32 of 39). In overtime, six of the Friars' eight points came from free throws.
Copyright AP - Associated Press