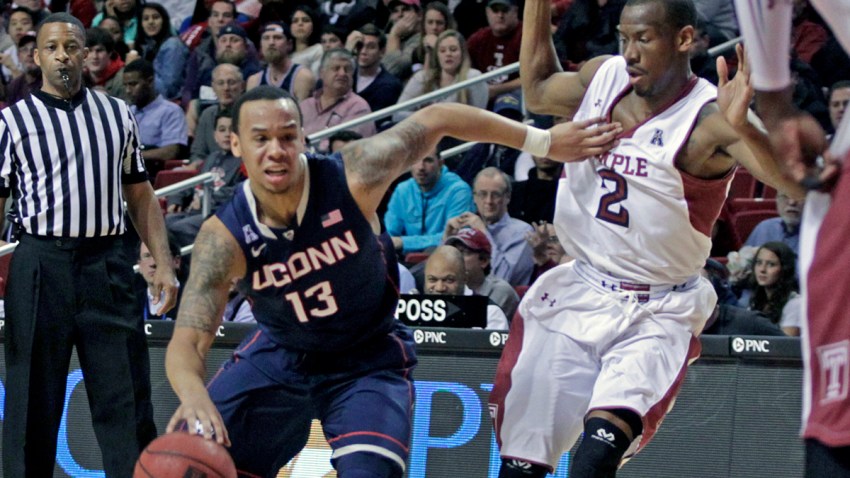 Four players finished in double-figures as the 21st-ranked Huskies outlasted Temple, 68-55 in Philadelphia Thursday night. Senior point guard and American Athletic Conference player of the week Shabazz Napier led the way with 17 points and 12 rebounds. He also added seven assists in 38 minutes of work.

The Huskies led 33-25 at then break but couldn't shake the Owls in the second half. Still, it was more than enough and Kevin Ollie's team moves to 21-5 on the season (9-4 in the AAC).

"We didn't play so well on offense, it was kind of sluggish," Napier said. "We had to do what we had to do on defense. This was an ugly win, but we had to get one."

And while the offense may have had its issues, the defense held Temple to 33 percent shooting, which very much played a role in the outcome.

"Defensively, we locked down," Ollie said. "That's what we hang our hats on. When we don't have our offensive games, we want to get stops. We held them scoreless for long stretches and that's what got us the lead. To hold a team to 33 percent, that's damn good defense."

Indeed. And the timing is right, too. The Huskies are coming down the home stretch with just a handful of regular-season games remaining before the conference and NCAA tournaments. Junior guard Ryan Boatright understands that nothing is easy this time of year and it's all about preparing for the postseason.
"We had to get through it. It was an ugly win, it was a very tough game," Boatright said. "We've got a veteran team, we've got leaders on the floor who know how to grind out a win like this. We've been in this situation before."

Next up: The Huskies host SMU Sunday.