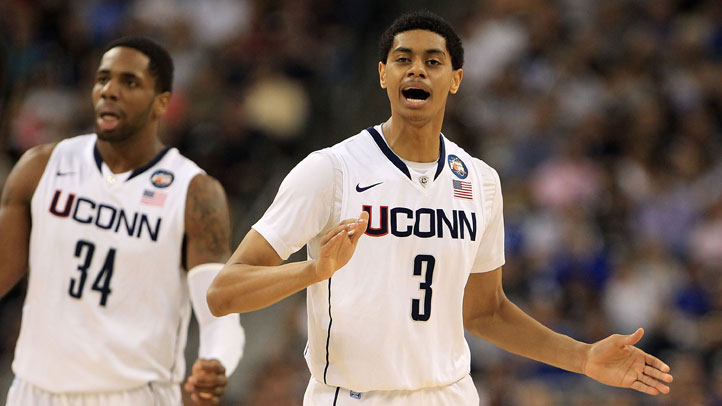 A year ago, the season began with few certainties, not much in the way of expectations after a disappointing 2009, and no idea that Kemba Walker would become Kemba Walker by the time it was all said and done.

Now, after a 73-63 Thanksgiving victory over UNC-Asheville in the first round of the Battle 4 Atlantis tournament in the Bahamas, the Huskies are 5-0, and winners of 16 straight dating back to the 2011 postseason. More than that, there's a legitimate argument that they also have the best, youngest backcourt in the country. Preseason All-American Jeremy Lamb and Shabazz Napier each scored 23 points in 39 minutes of action.

They were the only Huskies in double-figures, and Lamb and Roscoe Smith led the team in rebounds with six apiece. UConn also shot 52 percent from the field and 41 percent from behind the arc, which more than made up for the 19 turnovers that no doubt caused coach Jim Calhoun much consternation, rending of garments and gnashing of teeth.

"Overall, a win is a win, but no one's played us even near that hard since we played Butler last year," said Calhoun. …"We wouldn't want to play this team every day. If you don't bring it, or if you make mistakes, Asheville will get right back at you. I give them the utmost respect. We've had a tough time getting the ball inside, but once we established Andre Drummond, when we were first out, we did pretty well and we need to continue to do that.

The Huskies frontcourt rotation included equal parts Tyler Olander, Alex Oriakhi and the aforementioned Andre Drummond (each averaged about 20 minutes of playing time against UNC-A). They scored 4, 4, and 9 respectively, and combined for 11 rebounds.

As for that dynamic backcourt duo, Calhoun sounded impressed.

"Jeremy Lamb made some shots I haven't seen him make before," he said. "We had to put the ball on the floor. I thought Shabazz Napier did terrific, but he has to make better choices with the basketball, especially late in the game. It was a tough game for us and I was hanging on for dear life. They kept coming after us and after us. I was disappointed our big kids didn't dominate the glass better. We have to play defense and get ready for [Friday's] game against UCF."

Next up in the Bahamas? Central Florida. That doesn't mean a whole lot until you hear this: UCF's point guard is Marcus Jordan, son of Michael Jordan.