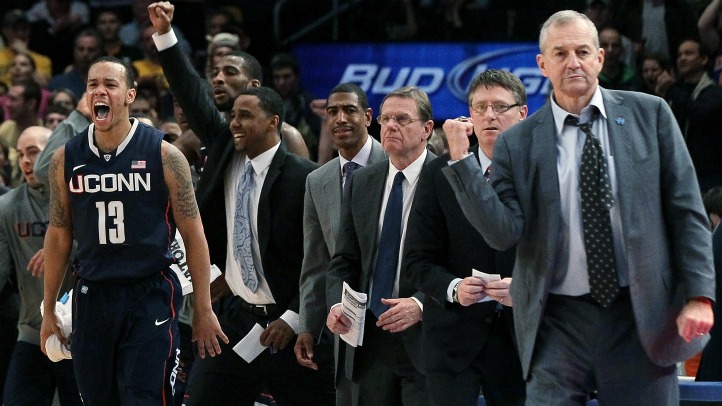 The Huskies have certainly seemed re-energized since coach Jim Calhoun returned to the bench last Saturday, less than a week after undergoing back surgery that kept him sidelined for eight games. UConn handily beat Pitt in the regular-season finale, and was in complete control in Monday's first-round Big East Tournament matchup against DePaul. For about 38 minutes Wednesday, however, that looked like it was going to change when they faced the Mountaineers.

West Virginia, who lost to UConn in Hartford on January 9, came into the tournament a game better than the Huskies both in the conference (9-9 vs. 8-10) and overall (19-12 vs. 18-12). But at Madison Square Garden, they were in control early. UConn kept it close for the first 20 minutes -- they trailed 40-36 at the break -- but Mountaineers came out in the second half and dominated the paint, capitalized on second-chance offensive rebounds and forced UConn into turnovers.

West Virginia extended it's lead to 11 points midway through the second half before the Huskies made a run. Shabazz Napier put the team on his shoulders and on back-to-back steals with two minutes to go, he tied the game 63-63. But then, with a chance to win it, Napier held the ball until there were four seconds left in regulation before launching a 22-footer that found the front of the rim.

Calhoun was exasperated by the decision but the Huskies had battled back to force overtime.

The final five minutes started with another Napier basket -- and then fouled out after picking up two fouls in 10 seconds. He headed to the bench with 26 points. The Huskies, meanwhile, had to find away to navigate the final 2:35 without their hottest player.

Enter Jeremy Lamb, who promptly pulled a huge defensive rebound, drained a three, and got another rebound on WVU's next time down the court. What Napier started, Lamb finished. What most of us figured would be a recurring storyline this season finally played out. Better late than never.

Lamb ended the day with 22 points, and he and Napier were the only Huskies to score in double-figures.

Next up: UConn faces top seed Syracuse Thursday at noon, but their NCAA Tournament fates have already been sealed -- they're in, even if that eventuality wasn't a certainty a week ago. The only mystery is where they'll be seeded. The early money was in the 10-11 range and that can only improve as they make their way through the conference tournament.

So while the 2011-12 Huskies still face long odds to repeat the five-day, five-win run through the Big East that the 2010-11 squad pulled off, there's no disputing that they're a better team with Calhoun on the bench. And at this point in the proceedings, that's all you can ask for.