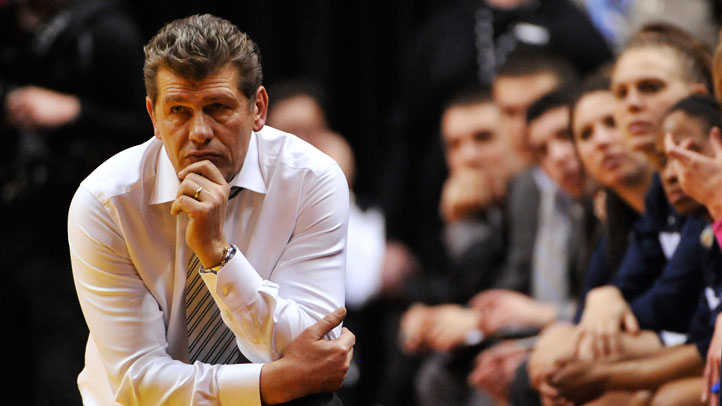 Pity the poor Providence Friars. They just so happened to be the Huskies next opponent following the Notre Dame game and they got the brunt of any frustrations UConn still may have felt from their performance against the Fighting Irish.

More than 8,000 people witnessed the spectacle at the XL Center and by the time it was over, the Huskies had won by 61 points, 96-35.It was the second-most points UConn had scored all season (they reached 112 against Pacific on November 15) and four players scored in double-figures.

Sophomore Bria Hartley and senior Tiffany Hayes led the way with 19 a piece and the Huskies' home winning streak is now 94 straight.

"Everyone is really excited with the way we played tonight," said Hartley, who went seven for seven on the night. "It just makes the game fun again. You don't want to go into games like Notre Dame where you should have won, or you could have done something differently to win that game. But you come out here tonight and you know you played really hard and you left everything out on the floor."

Geno Auriemma joked earlier this week that "Yes, the kids were concerned about my job," after UConn dropped to No. 3 in the polls. But then he got serious.

"You have to be careful not to get frustrated because we realize we should have won at Baylor and we should have won at Notre Dame," he said according to the Hartford Courant. "Just because we didn't doesn't mean we're not as good as team as we should be. That's a difficult balancing act."
"I've tried to tell them we may be the only team in America that would have been up by 11 at Baylor in the second half or have a two-point lead at Notre Dame, with the ball, with 25 seconds left. If that's the team we are, then we need to understand and believe that."

Well, it worked, at least for a night against an opponent that never really had a chance.

"This was definitely something we needed," said Hayes. "This is going to help us in the future because it's a confidence booster."

According to the Associated Press, Providence hasn't beaten UConn since March 7, 1993. For some perspective, that was eight months before Kaleena Mosqueda-Lewis was born.

"They play at a different speed that's almost like men," said Providence coach Phil Seymour. "The way they run the floor, the way they push the ball, the way they execute, it's different and there's not a lot of teams that's like that."

Other fun facts (via the AP): "The win was UConn's 168th in a row against an unranked opponent, a streak that dates back to 1999. The Huskies haven't lost at home to a team outside the Top 25 since March 1993 - a span of 259 games. That was the same year the Huskies last lost back-to-back games in the Big East."
Next up: UConn travels to Philadelphia to face Villanova this Saturday.