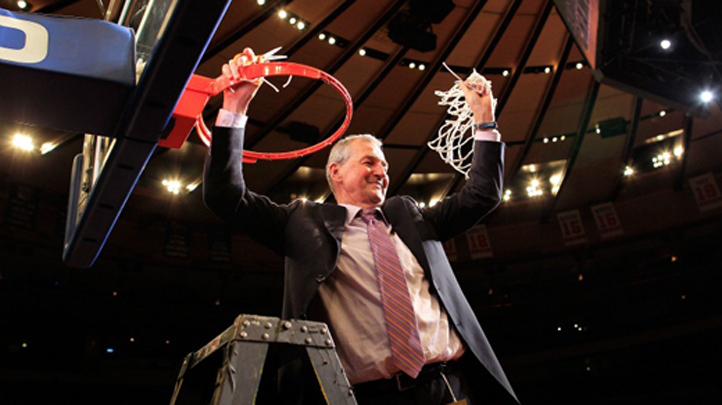 In news that shocks absolutely no one, basketball coach Jim Calhoun will return for his 26th season at UConn. University president Susan Herbst confirmed the news to the Hartford Courant: "He told me today he is staying. Obviously, we're thrilled about it."

The less enthusiastic details via the school press release: "In a conversation this morning with UConn President Susan Herbst about a variety of subjects, the topic of conversation turned to Coach Calhoun's return for the coming season. At that time, Coach informed the President that it was his intention to coach this coming season, as he is under contract to do. He told President Herbst that he wanted her to be the first to know, beyond his family, and that she was free to share the information with others."

Calhoun's return has been a foregone conclusion for sometime now. He's been front and center in the program's summer recruiting efforts, and Omar Calhoun, a 2012 commitment, has said publicly that coach Calhoun promised him he'd still be at Storrs when he arrived on campus next summer. And if there were any lingering doubts, they were gone the minute Andre Drummond, the nation's top high school player, announced that he was coming to UConn immediately and would be eligible for the 2011-12 season.

Speculation surrounding Calhoun's future began in earnest weeks after the Huskies won their third national title in April. After confirming publicly that he would return to the Huskies bench in the fall, Calhoun, 69, indicated that he wasn't sure what his future held. He remained mum on the matter throughout the summer, although he traveled the country to recruit players and attend basketball camps. These aren't the actions of someone with their sights set on daily rounds of golf and not much else.

We suppose that Calhoun might have given serious consideration to calling it a career as the spring semester wound down. At the time, the NCAA had penalized the program three scholarships for academic shortcomings, Huskies sixth man Jamal Coombs-McDaniel announced that he would transfer, and the best player in the program, Kemba Walker, left school after his junior season to play in the NBA.

A lot can change in the coming weeks. Jeremy Lamb emerged as one of the best players on the U-19 US National Team, Shabazz Napier and Roscoe Smith look like completely different players during late-summer workouts, and freshmen Ryan Boatright and DeAndre Daniels now give UConn something they didn't have a year ago: depth.
And Drummond? Well, he also provides something: Greg Oden-like ability. His presence immediately makes everyone else better, which should strike fear in the rest of the Big East.

We've joked for weeks that we fully expected Calhoun to return and we finally have confirmation.
Welcome back, Coach. It's like you never left.