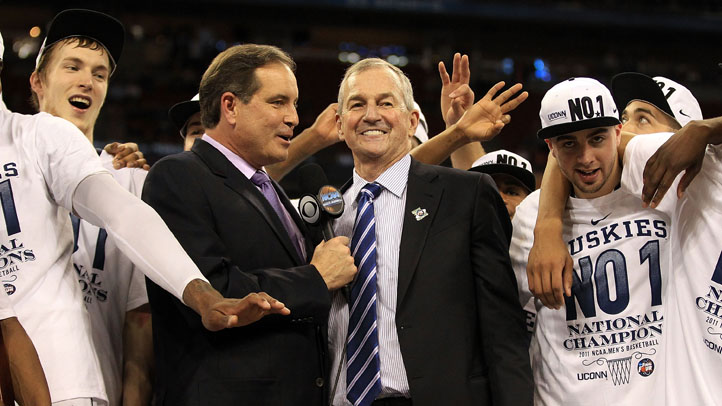 The men's and women's basketball teams currently call Gampel Pavilion their on-campus home. The arena, opened in 1990, holds 10,000 people. That probably sounded like a lot at the time, particularly since the women were still five years away from their first national championship, and the men nine.

Which help explains why now many games are played at the XL Center (capacity: 16,000) in Hartford.

While no definitive plans have been made, it sounds like another venue could be in the home-court rotation even though it's situated some 80 miles from Storrs. Coach Jim Calhoun was in Bridgeport Tuesday morning speaking at the Jewish Community Center's annual charity breakfast. He covered a wide range of topics from his retirement, to Jamal Coombs-McDaniel's recent arrest to the Huskies possibly playing a game in Bridgeport in the near future.

Details via the Norwich Bulletin:
Calhoun told the Connecticut Post there have been discussions with the administration about playing a game at the Webster Bank Arena at Harbor Yard. He said there are still some regulatory and financial questions that must be answered, and did not give a timetable for playing the game, saying it could happen "one day."

The 10,000-seat arena is home to Fairfield University's basketball team and the Bridgeport Sound Tigers of the AHL. It also has hosted NCAA women's tournament games, NCAA hockey and the MAAC basketball tournament.
So there's that. But the question people are most interested in concern Calhoun's immediate future. Namely: will he return to UConn to coach in the fall. He's been been vague on the issue since the Huskies won the national title last month and his comments Tuesday probably won't placate the curious.

"I don't have a timetable. I think it kind of just evolves," Calhoun told the Connecticut Post. "Whatever I decide to do, that's what I'm going to do."

"I was in the office all day yesterday (Monday), just working on next year," he added. "Getting kids squared away during finals, trying to get housing squared away, trying to do all the things that I have to do. The visit to the White House ... there's a lot of issues that you have to deal with, plus having to fill at least one (assistant coaching) position. It's still a very busy time for us."

We wrote last week, that doesn't sound like a man with plans to retire. As for Coombs-McDaniel, Calhoun said a punishment will be coming in the next few days. "I'm not trying to hide anything but I think over the next week, everyone will see what action has been taken," Calhoun told the Post.