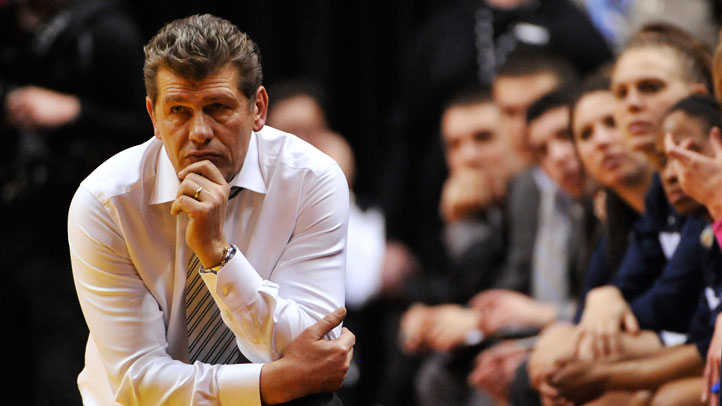 Geno Auriemma's Huskies are just as efficient on the Virgin Islands as they are on the mainland. They wrapped up the Paradise Jam with another easy victory, this time a 91-57 win over No. 14 Purdue, a game that was over shortly after it started. UConn led by 20 at the break on 58 percent shooting, and handed the Boilermakers their first loss of the season.

Freshman forward Breanna Stewart led the Huskies with 17 points and added four rebounds and four assists. Sophomore Kaleena Mosqueda-Lewis had 15, Bria Hartley had 12, and Stefanie Dolson was good for 10. Stewart's effort earned her Paradise Jam MVP honors, the first freshman to be recognized since -- you guessed it -- Maya Moore. But much like her game, Stewart was laid back in her response to questions about similarities with Moore's UConn career arc.

"It's very nice to be compared to Maya Moore but I'm just going to go out and play hard," she said in comments released by the university. "I just need to play my game and not worry too much about comparisons."

And Auriemma, who has never been known to get too excited by a single win, particularly one in November, sounded a similar tone Sunday night.

"You come down here to win three games," he said. "We want to play a certain way and establish a certain identity of who we are and how few are going to play so that we know and that everyone knows that when Connecticut plays this year, this is what's going to happen.

"Everybody had their turns to play real well and everyone had their turns to struggle a little bit," Auriemma continued. "Last year, we could only play six or seven guys max because that's all that could contribute to us winning. This year we've got way more than that. People have had to adjust their roles a little bit and it's worked out well so far."

In a case of the rich getting richer, Hartley returned to the court after missing the Huskies first two games while recovering from an ankle injury. She admits that she got off to a slow start in the Virgin Islands, but she had her best outing of the season against Purdue.

"In the first couple games I felt a little out of place and out of rhythm," she said, "but I got in more of a groove tonight and felt better and was really happy with the way the team played tonight."

The second-ranked Huskies play again Wednesday when they host Colgate at the XL Center. That'll begin a five-game home stand, then UConn hits the road to face Stanford on Dec. 29.