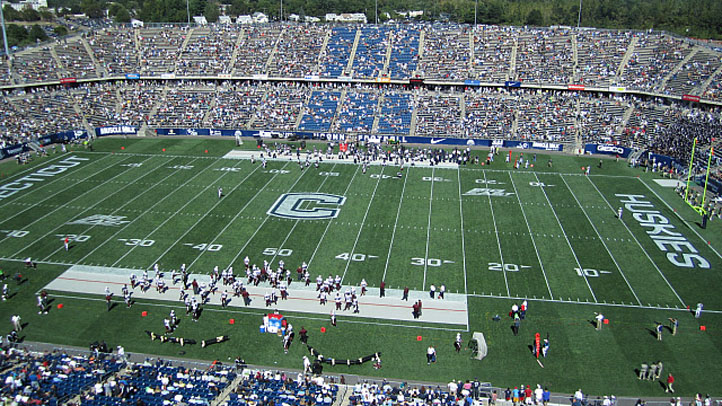 When not fielding questions about the Huskies' quarterback situation, coach Paul Pasqualoni weighed in on the defense, a unit that should be one of the team's strengths this season. Like everybody else, Pasqualoni is concerned about the loss of Kendall Reyes along the defensive line, but there are enough playmakers on that side of the ball to make up for Reyes' presence.

The name most often mentioned: pass-rushing specialist Trevardo Williams, who registered 12.5 sacks a season ago, as well as 15 tackles for loss. Oh, and he's No. 9 in the nation on Athlon's preseason sack masters list

Pasqualoni said that Williams, undersized for a defensive end, will also stand up and play outside linebacker in UConn's 3-4 looks. One of the keys to Williams' success is his speed off the edge, something teammate and cornerback Blidi Wreh-Wilson still has a hard time wrapping his mind around.

"First of all, look at him," senior corner Wreh-Wilson said via SNY.tv's John Silver. "If you look closely at him, he looks like a superhero in pads. He can do anything and is versatile and athletic. If we need him to do it, he can do it."

But Wreh-Wilson will just as integral as Williams to any success this unit has. Both players were listed as NFL prospects by NFLDraftScout.com's Rob Rang, and ESPN Big East blogger Andrea Adelson lists Wreh-Wilson one of the top-25 players in the Big East.
It is easy to quantify how valuable Wreh-Wilson is to the UConn defense. Going into last season, he was widely regarded as one of the top shutdown cornerbacks in the Big East. But he hurt his knee in Week 4 and was out the next five weeks. The UConn secondary took a tumble with Wreh-Wilson on the sideline. In the five games without him, the Huskies gave up an average of 364 yards through the air. In the seven games with him, that number drops to an average of 222 yards. Of the four times UConn gave up more than 400 yards passing last year, three of them came with Wreh-Wilson on the sideline.
Wreh-Wilson attributes the defense's collective mindset to coordinator Don Brown's aggressive scheme.
"The thing with our defense is multiple packages and multiple fronts," he said. "The secondary is more pressing and in your face. From the old scheme it was a totally different approach. Some guys, there was too much thinking, not enough reacting. This spring we accomplished a lot and during the summer we got all the installs in."

These sentiments aren't all that different from what Wreh-Wilson said last August: "We have a new system coming in, it's more aggressive, and we're just going to try to get after people." The biggest difference -- much like the offense -- is that now the defense has had a year in Brown's system.