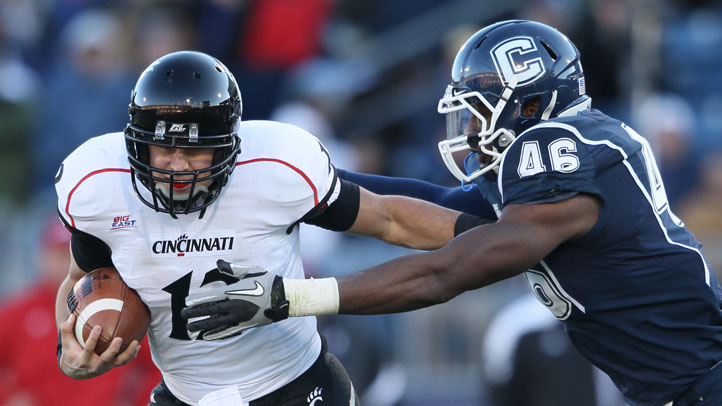 The travails of the UConn quarterback have been well documented … well, everywhere. At the same time, the defense has been lauded for stops, turnovers, and generally playing like one of the Big East's best units. But they're not infallible.

In fact, you could make an argument (a weak one, yes, but an argument nonetheless) that if the defense had played better against Vanderbilt and Iowa State -- two games they lost by a total of seven points -- the Huskies would be 3-0 now despite their offense.

"I think what we have to remember is these concepts that we're into offensively and defensively are still new to these guys," head coach Paul Pasqualoni said, according to the Hartford Courant's Desmond Conner. "I equate some of the inconsistency on offense in the same context as the inconsistency on defense. We've played well on defense and then we give up the big play. We've given up too many big plays."

Conner points out that the Huskies' D has given up at least one big rushing play (any run for at least 20 yards) and one big passing play (any completion for at least 40 yards) in the last two games.

"That's experience," Pasqualoni said. "That's knowing where to be; that's what I call fitting the run and being in the right gap and then it's the same thing on the other side of the ball. We've got some inexperience in some key spots. Some growing pains."

It's also more evidence that, given the current state of the offense, the defense can't afford a single lapse because it could mean the difference between winning and losing. Look at it this way: for all the questions about the offense, the Huskies have had chances to win the last two weeks. That's mostly a testament to just how good this defense is, but instead of dominating for 45 or 50 minutes, it's going to have to be a 60-minute deal to give UConn any chance to compete in conference play.

"We've got to execute better on both sides of the ball," Pasqualoni said. "When we're playing on defense and you have to be in a particular place at a particular time to stop the run, you got to be there. You can't be a half a step behind; you can't be a half a step ahead."

And while it may sound like an old coaching bromide, execution (or lack thereof) has been the Huskies' biggest problem. "I said after the game, 'Hey fellas, we got to flat-out execute because a lot of this stuff is self-inflicted,' " Pasqualoni said. "We've got to stop these self-inflicted wounds and if we can do that we're going to be very, very pleased because the effort is there, the enthusiasm, the passion … those things are there."