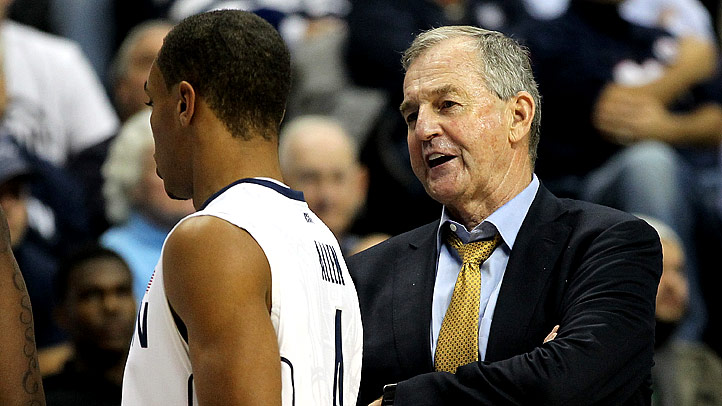 Jim Calhoun got after his team following their season-opening victory over Columbia. Something about getting doubled-up on the offensive boards by an undermanned Ivy League school just didn't sit well the the old-school coach. So in only the way he can, Calhoun blasted his players for their lack of aggressiveness, particularly his big men.

Six days later and UConn put on a rebounding clinic. Yes, it was against Maine, but nobody expected Columbia to do what they did, either. The final score -- 80-60, UConn -- was nice, but we're guessing Calhoun took greater satisfaction from his team's dominating performance in the paint. The Huskies outrebounded the Black Bears 57-28, including 34-17 on the offensive end.

Alex Oriakhi had 16 points and eight rebounds, and Andre Drummond (11 points, 14 rebounds) and Tyler Olander had double-doubles (11-10), and after a slow first half, UConn began the final 20 minutes on a 23-2 run to put Maine away.

So Calhoun must've appreciated his team's performance on the boards, right?

"We rebounded better," he said dryly after the game. "In the second half, at one point I think it was 40 to 16, something of that nature. So we defended a little better. Ball movement was not good."

Okay, so it's not a glowing letter of recommendation, but it'll have to do. Plus, Calhoun isn't just settling for wins. It's early in the season, this is a young team, and the schedule only gets tougher going forward.

"I just haven't seen the enthusiasm with this particular group, particularly when there are eight kids back from a team that had the ultimate experience of success last year," Calhoun said.

"We turned the D up (in the second half), started rebounding, but we still haven't run. And we don't convert, obviously - very obviously....You get that many offensive rebounds - 34 offensive rebounds - you probably should convert 25 of those. And we're not. Because we're not making layups."

Other than all that, the Huskies put on a how-to performance.

Surely, Calhoun had to be happy with Oriakhi's effort, particularly since he got off to a slow start to the season.

"I'd like to tell you he did it early when we needed it," he said. "He didn't. He did it when the game was out of hand. There's no one on the team who wants to do it more than Alex, but he has to do it. He has to be a bully around the basket, and right now, he's not."

This is all part of Calhoun's grand plan -- tear his team down against lesser opponents, toughening them up in the process, and then when the dog days of the Big East schedule are upon them, they'll be hardened and battle-tested. These are Jedi mind tricks, if you will, modified for Calhoun's purposes, though we suspect some folks (see: Huskies players at the wrong end of a tirade) might wonder if Calhoun is more Darth Vader than Obi-Wan.

Back on Earth, UConn is 3-0 this season, and now run their overall winning streak to 14.

The Huskies play again Sunday afternoon, when they host Coppin State at the XL Center. By then maybe Calhoun will have calmed down.