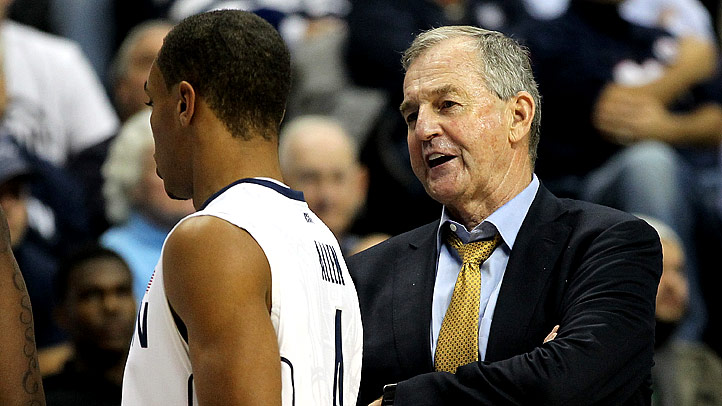 Early season results mean little in college basketball. Coach Jim Calhoun obviously likes winning, but just because the Huskies came out on top according to the scoreboard it doesn't mean that there isn't room for improvement, or that Calhoun won't talk about all the ways his team underachieved. In the season opener, it was the lack of rebounding. In the loss to UCF in the Bahamas, it was the lack of cohesiveness.

It's Calhoun's job to point out such things, even if he comes off as overly dramatic in the process. When you have three national titles, you're entitled to coach as you see fit. But again: it's November. No one would've remembered that the Huskies reeled off 10 games to begin the 2010-11 season if they hadn't gone 11-0 to end the year with a national championship.

So it's hardly surprising that UConn, ranked No. 4 before their loss to UCF last week at the Battle 4 Atlantis holiday tournament, fell to No. 8 in the AP poll and No. 10 in the ESPN/USA Today poll.

North Carolina, who lost to UNLV, dropped from first to fifth, Kentucky moved up from second to first, followed by Ohio State, Duke and Syracuse.

"Need to improve in a lot of areas, but this group is up to the challenge," UConn assistant coach Kevin Ollie tweeted.

In other UConn-related basketball news, the women's team remains No. 2 in the country behind Baylor. And like Andre Drummond, UConn freshman Kaleena Mosqueda-Lewis earned Big East Rookie of the Week honors. Unlike Drummond, it's the second consecutive week she's won the award.

Details via the Hartford Courant's John Altavilla:

"Mosqueda-Lewis averaged 15.3 points in four games, dishing 11 assists with no turnovers and eight steals. She scored 25 points on 10 of 17 shooting with eight rebounds against Stanford, one of only two Huskies to make a field goal in the game's first 25 minutes.

"She scored 11 points and was just one rebound shy of a double-double against Fairleigh Dickinson and closed out the week with a 23-point, six-rebound effort against Dayton, going 7 of 13 from the floor, including 6 of 8 from three."