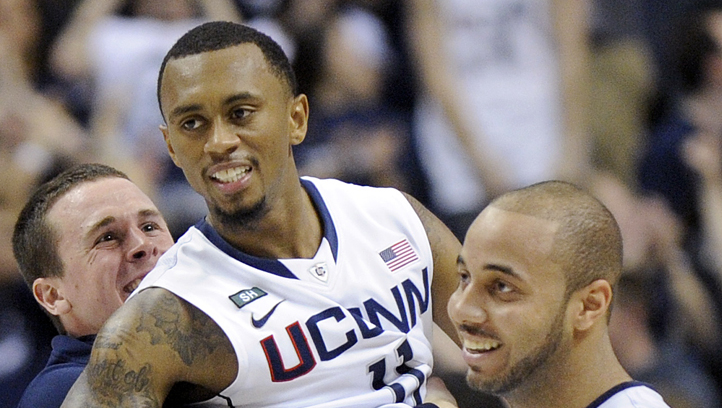 Connecticut wasn't playing for a national championship, an NCAA tournament berth, or even a good seed in next week's Big East tournament.
But someone forget to tell the Huskies, who face an academic ban from the postseason, that they had nothing to play for in their final game.
Ryan Boatright scored 23 points, including a key three-point play in overtime, and Connecticut finished its season with a 63-59 win over Providence on Saturday.
DeAndre Daniels added 19 points and Shabazz Napier, playing despite an injured right foot, chipped in with 16 points as UConn (20-10, 10-8 Big East) earned its 20th win. Daniels and Napier each had eight rebounds.
"This team is something special," said coach Kevin Ollie. "It's just the determination and resolve they showed the whole year. They've been remarkable. They've been fighters. They played for each other. It's just a wonderful story."
Kadeem Batts had 14 points and 12 rebounds for Providence (17-13, 9-9), and Kris Dunn added 11 before fouling out in the extra period.
UConn led 32-26 at the half, but were tied at 55 after regulation.
It was still tied when Boatright's fade-away basket with 19 seconds left drew a foul on Bryce Cotton. The free throw gave the Huskies a 62-59 lead. Cotton missed a 3-point shot on the other end and Napier sealed the win with a free throw.
"Once I got by him, I just tried to get up into his chest, because I knew he was going to foul me," Boatright said. "I got the separation I needed and I was able to get the shot off."
Napier gave UConn the lead to open overtime with a jumper, and two foul shots by Boatright hit two foul shots to push the lead to four.
Connecticut's defense kept the Friars without an overtime point until Josh Fortune hit a put-back to cut the deficit to 59-57 with 1:32 left. LaDontae Henton hit two foul shots with 46 seconds left to tie it, setting up Boatright's big play.
Providence opened the second half on a 10-2 run, taking its first lead of the game on a Dunn layup that made it 36-34.
After going 9 for 25 in the first half, the Friars hit seven of their first 11 in the second. A 3-pointer by Fortune pushed the lead to 43-39.
"We made an adjustment at halftime and it definitely worked," said Providence coach Ed Cooley. "I thought we controlled the second half."
Boatright gave UConn the lead again at 47-46 with a short jumper and the teams went back and forth from there.
Boatright's two free throws with 32 seconds to play tied the game at 55.
Providence held for the last shot, but Daniels blocked Henton's baseline jump shot with a second to play, sending the Huskies seventh overtime game of the season. They improved to 5-2 in those games.
"This game was wonderful, because it showed that if you believe, anything is possible," said UConn coach Kevin Ollie. "They believed."
Napier led the Huskies on an early run, scoring five quick points as UConn jumped out to a 10-5 lead.
Batts, Providence's big man, didn't touch the ball in the paint until midway through the half. His layup cut UConn's lead to 17-14. But the Huskies used a 7-0 run, highlighted by a 3-pointer form Daniels, to push the lead back to 10, and led by six, 32-26 at the half. Daniels had 12 points at intermission.
Providence, which opened 2-7 in the Big East, came in having won seven of its last eight games and three in a row.
The loss drops Providence to the eighth seed in the Big East tournament, after being picked to finish 15th in the league in the preseason.
UConn also beat the Friars in overtime on January 31, 82-79.
The Huskies played this one shorthanded.
Niels Giffey, the Huskies' top player off the bench, broke his right index finger last week in a 61-56 loss at Cincinnati, and is out for the season. Center Tyler Olander followed him to the training room on Wednesday, breaking his left foot in the 65-51 loss at South Florida.
Freshman star Omar Calhoun, who had been playing despite a sprained right wrist, was in a soft cast Saturday and also on the bench in street clothes.
UConn already was playing without 7-foot-1 center Enosch Wolf, who was suspended after being arrested on Feb. 11 during an on-campus domestic disturbance.
"We was dropping like flies," said Boatright. "For us to come together and get this last win, it really meant a lot."
Napier had been listed as questionable for the game after missing the last two with foot injury suffered in UConn's double-overtime loss to No. 7 Georgetown.
Connecticut wasn't expected to come close to 20 wins after losing five underclassmen to transfer and the NBA and seeing Hall of Fame coach Jim Calhoun retire in the offseason.
They were picked to finish ninth in the conference, and were banned from the NCAA and Big East tournaments based on a low academic performance rate, scores that involved no player on the current team.
UConn held a ceremony after the game to honor the team for fighting through the adversity.
"We had a lot of excuses, but we never gave up," said Napier. "Whenever somebody was down, somebody came to fill that void. Hopefully we'll go down in history as one of the hardest working teams."
Copyright AP - Associated Press