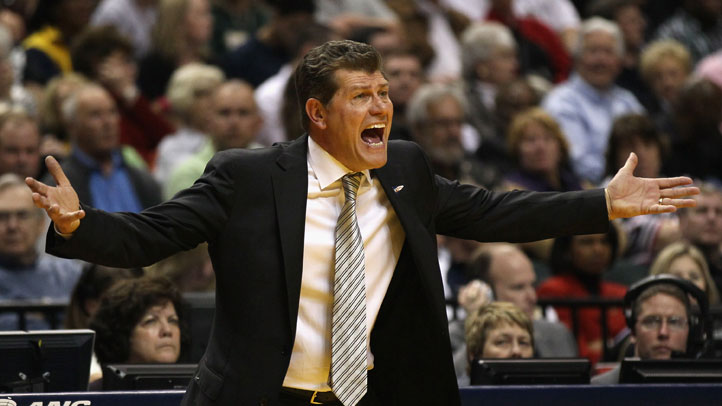 Geno Auriemma isn't afraid to test his team. We don't mean that he works his players hard in practice, or has little tolerance for mistakes (both true), but that he actually puts his money where his mouth is by scheduling tough competition to prepare his squad for conference play and the postseason.

The first true test for the fourth-ranked Huskies comes Monday night when they host No. 5 Stanford at the XL Center.

"We've played in some of these Preseason Tip-Off Classics where right off the bat you're playing a Top 10 team,'' Auriemma said, according to the Hartford Courant. "We're both in the same boat. It's not like one of us has been practicing and playing games for a month and the other one hasn't. So there'll be a lot of things they're not prepared for and there'll be a lot of things we're not prepared for."

The Courant's John Altavilla rightly notes that the storyline heading into the game will be about the veterans -- Stanford's Ogwumike sisters, and UConn senior Tiffany Hayes and junior Caroline Doty -- but the nine freshmen could prove to be the difference.

The Huskies' Big Three -- Kaleena Mosqueda-Lewis, Brianna Banks and Kiah Stokes -- comprise one of the nation's best recruiting classes. And a year ago, it was early season matchups such as these that helped then-freshmen Stefanie Dolson and Bria Hartley mature into the players that were integral cogs in UConn's Final Four run.

Back in April we wrote about just that:

"Auriemma has a history of scheduling tough opponents. Last season, the Huskies played Baylor, a game in which then-freshman center Stefanie Dolson appeared overmatched. That wasn't totally unexpected; Dolson was going up against Brittney Griner, one of the best centers in the country. But the experience made Dolson a better, more confident player down the stretch, when the Huskies needed her production because Maya Moore faced constant double-teams or Tiffany Hayes couldn't find her jumper."

This time around, Mosqueda-Lewis's sharpshooting skills could help open things up for Dolson underneath. Or maybe, like so many freshmen before her, KML will be overwhelmed by the enormity of it all.

"You really don't know what they are going to do," Stanford coach Tara VanDerVeer said, via the Courant. "But the advantage of playing a big game now is that you hope to be in the NCAA Tournament, and by then they will be accustomed to playing in big games. They will know how to adapt to the crowds and excitement and know better how to focus and keep their poise."

And that's exactly the point.