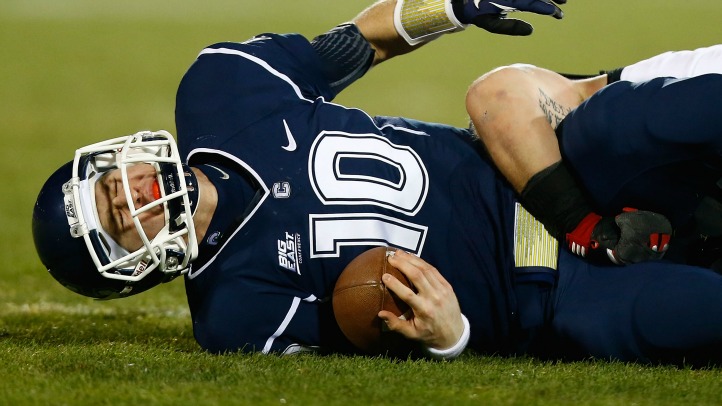 Cincinnati won't be going to a Bowl Championship Series game but that's not stopping the Bearcats from celebrating their share of the Big East title.
Brendon Kay threw two touchdown passes to Travis Kelce, and caught one from the big tight end on a trick play as Cincinnati (9-3, 5-2) beat Connecticut 34-17 on Saturday, to earn a share of the crown for the second straight year.
The win ties the Bearcats with Louisville, Rutgers and Syracuse, all of which ended the season with 5-2 conference records.
"I don't care if it's a share, it's a championship," said Cincinnati coach Butch Jones. "These players have put in so much effort. You look at our football program, four out of five of the last years we've either won or shared a conference title. I don't know if there is anybody in the United States of America that has done that."
Kelce caught five balls for 69 yards. Kay completed 19 of his 29 passes for 245 yards and the two scores.
Kay hit Kelce for a 25-yard touchdown on the Bearcats' opening drive, and Kelce returned the favor in the second quarter. An interception return by Chris Williams set the Bearcats up on the UConn 39. On first down, Kelce took a backward screen pass from Kay and threw the ball back across the field to his quarterback, who ran down the right side for a touchdown that made it 14-0.
The two had come into the program together as quarterbacks, and had joked about throwing to each other. Kay said they had practiced the play for three seasons.
"After we scored, I was like, 'I got one to you, you got one to me, we've even," Kay said.
Kay found Kelce again from 21 yards out on the opening drive of the second half to give the Bearcats a 21-10 lead.
Chandler Whitmer threw for 264 yards and a touchdown for UConn (5-7, 2-5) before leaving the game with a head injury in the third quarter.
Connecticut tight end Ryan Griffin got the Huskies into the game in the second quarter with a 74-yard catch and run. He caught the ball on the UConn 35 and outran the Bearcats' defense, diving into the end zone after almost being tripped up at the 6-yard line by Deven Drane. It was 14-10 at the half.
UConn freshman kicker Bobby Puyol made the first field goal of his career, a 40-yarder to give the Huskies their first points. That was set up when Chandler Whitmer found Michael Smith open over the middle for a 51-yard pass from the UConn 24-yard line. UConn's regular kicker, Chad Christen, sat out the game with a hip injury.
Whitmer started for UConn despite being knocked out of last week's win over Louisville with a head injury. He left this game in the third quarter after taking a shot from Greg Blair on a trick play and hitting his head on the turf.
Whitmer said he blacked out on the play, but wanted to return.
"I think just being back so soon, being hit again, they just didn't want to risk anything," he said.
Senior walk-on Johnny McEntee replaced Whitmer and completed the 15-play, 69-yard drive which ended with a 1-yard touchdown plunge by Lyle McCombs. It was the first second-half touchdown in a Big East game for UConn and brought the Huskies to within four at 21-17.
McCombs finished with 21 carries for 60 yards.
But a bad pass by McEntee that was intercepted by Drane set up another Bearcats touchdown, a 4-yard run by George Winn, his 12th touchdown this season. That came after Tony Miliano had made it a seven-point game, hitting a 38-yard field goal with 12 minutes left. His 42-yarder with 6 minutes left put a bow on the game.
McEntee finished with 73 yards passing and two interceptions.
Connecticut, which also lost to Cincinnati last season with bowl eligibility on the line, finished its second consecutive 5-7 season since Paul Pasqualoni took over the program from Randy Edsall. The Huskies had been 3-6 before winning consecutive games against Pittsburgh and Louisville.
"We worked hard these last couple of weeks trying to make sure we were eligible for a bowl game, and came up a little bit short," said cornerback Blidi Wreh-Wilson. "I feel that's what's been happening all season."

Copyright AP - Associated Press