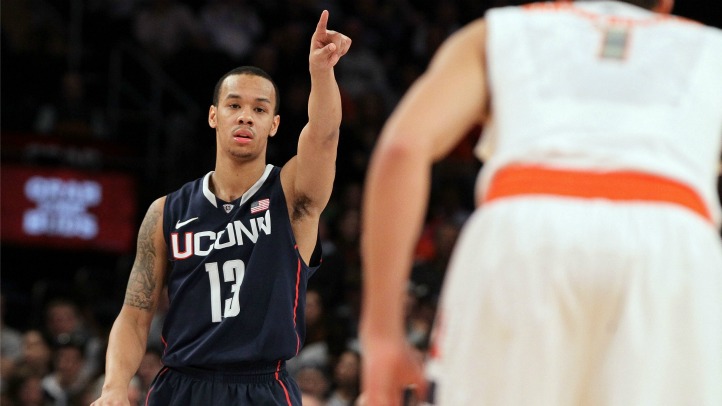 Marquette had not made a 3-pointer for the first 39 minutes and 59 seconds of Tuesday's game against Connecticut. That didn't worry Junior Cadougan.
Cadougan scored 18 points — including a buzzer-beating, tying 3-pointer at the end of regulation — to lead Marquette to an 82-76 overtime win over the Huskies in the Big East Conference opener for both teams.
"In that situation, you can't think about if we're 0 for 14," Cadougan said. "You have just got to shoot it to make it. If you make it, you make it. If you miss — tough luck."
Davante Gardner also scored 18 points for the Golden Eagles (10-3). Vander Blue scored 13 points as Marquette won its 17th in a row at home.
Shabazz Napier tied his career high with 29 points and had eight rebounds for Connecticut (10-3). Ryan Boatright added 16 for the Huskies, who saw a four-game winning streak end.
Marquette was without head coach Buzz Williams, serving a one-game suspension for NCAA recruiting rules violations announced in August. Assistant Brad Autry filled in for Williams, who is expected to return for Saturday's game against No. 15 Georgetown.
In a bizarre start to the overtime, the officials lined up the teams the wrong way.
Connecticut won the tip, and Jamil Wilson was initially whistled for goaltending on a shot by Napier. The officials then stopped play, noticed the mistake, gave Connecticut a team turnover and awarded the ball to Marquette, taking the two points off the board.
After the game, game official Karl Hess, speaking through a Marquette spokesman, said two points should have been awarded to the Huskies.
Said Hess: "Based on Rule 5, Section 1, Article 3 (of the NCAA rule book), when the official permits a team to go in the wrong direction, and then the error is discovered, all activity and time consumed shall count as though each team had gone in the proper direction."
That's not what officials told both coaches, though.
"The refs said they just would award them the basketball because Shabazz shot on the wrong basket, and they goaltended," Ollie said. "It was just some fluke. It wasn't the deciding factor of the game, but it started the overtime in kind of a bizarre way."
Autry joked about it after the game.
"The old turnaround trick ." the Marquette coach said, smiling. "I had it worked out where we were going to get the ball and the points on our goal-tend, and they didn't see it that way. . They said it was an illegal shot, and I think what they ultimately did is they reverted back to an old elementary school do-over. He was just like, 'Uh, it's your ball, and we're going that way. So be quiet now.' So I was just quiet."
Cadougan "officially" opened the overtime with a runner to make it 71-69, but UConn's Omar Calhoun sank a 3-pointer to make it 72-71 with 3:16 left. Vander Blue's 3-pointer with 1:41 left put the Golden Eagles ahead to stay at 74-72, and Wilson's layup put the Golden Eagles up 76-72 with 47 seconds remaining.
Napier made a layup to cut it back to two points, and Cadougan made a free throw with 33 seconds to go. Napier's shot at a tying 3-pointer missed with 18 seconds left, and Wilson made a free throw and Trent Lockett added two more as Marquette wrapped it up.
The Golden Eagles haven't lost at home since Vanderbilt beat them 74-57 on Dec. 29, 2011.
"We let them bully us in the first half," Napier said. "I think that's where we kind of messed up. The second half, I think we did so much better, rebounding and hitting them first. In overtime, we totally were out of it."
Marquette led 30-27 at halftime and scored the first seven points of the second half, but the Huskies cut it to 40-38 on a layup by DeAndre Daniels.
The Golden Eagles used a 12-4 run to open a 52-42 lead with 12:10 left. But Connecticut and Napier responded, with the junior guard scoring 11 straight points — three 3-pointers and two free throws — to tie the game at 57 with 7:23 remaining. A free throw by Tyler Olander with 6:46 left gave the Huskies their first lead since the opening minutes.
Both teams struggled to score down the stretch.
Connecticut took a 67-66 lead on a tough runner by Boatright with 3:36 left, and the Huskies made it 69-66 with 5.9 seconds left on Boatright's jumper from the top of the key with the shot clock winding down. Not using a timeout, Cadougan then took the inbounds pass, dribbled to the right wing and sank a 3-pointer over Boatright from well outside the arc. Marquette had gone more than 5 minutes without a basket before the shot.
"I didn't have a chance to tell Boatright to foul," Ollie said. "He took a great 3-point shot — 35-footer, it went in. We had a chance in overtime, just came up short tonight."
"To get down twice by 10 in this type of atmosphere and come back, it shows a lot of fight that our guys got," Ollie added. "Especially in the second half, I challenged them, and they stepped up to the challenge. We got beat tonight on a 3-point shot to send it into overtime."
Napier took responsibility for the breakdown on the game-tying shot.
"That's me and Boatright's fault," he said. "We should have thought of that (fouling Cadougan) as soon as (Boatright) knocked down the shot. But I was so intense and so passionate about (Boatright's) shot that he made that I just zoned out. I forgot how much time was left and I forgot that we could foul him, get him on the line and hopefully they miss and we get a rebound."
Autry said he was not surprised they didn't foul, given the Golden Eagles' 3-point woes.
"They feel pretty confident that you're not going to hit a shot," he said. "Junior is just a winner. What Junior really does well is win games."
Marquette outrebounded Connecticut 41-31. And with Gardner's 18 off the bench, Marquette's reserves outscored Connecticut's 41-11.
Ollie's deal, which began Monday, was announced on Saturday when UConn beat Washington 61-53.
Ollie replaced Jim Calhoun on Sept. 13. Calhoun, who won three NCAA championships at Connecticut, retired with 873 career wins, the sixth most all time, in 1,253 games, which is the third highest total. Ollie initially signed a seven-month contract set to expire in March before UConn rewarded its former star guard for the Huskies' surprising 10-2 start.
Copyright AP - Associated Press