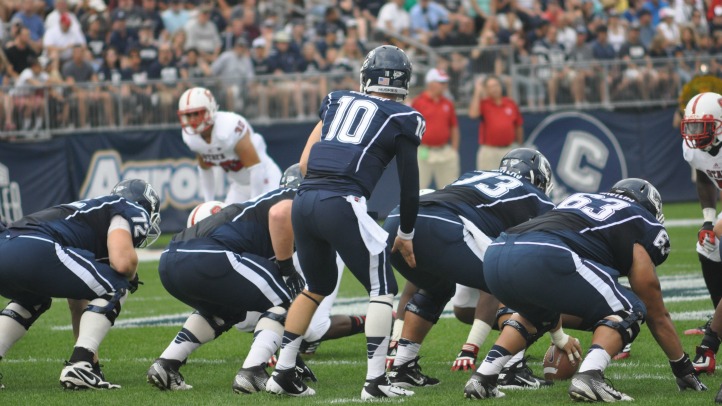 North Carolina State's David Amerson was looking for a little redemption after being burned deep a couple of times in a season-opening loss to Tennessee.
The All-America cornerback responded with an interception and knocked down a fourth-down pass on UConn's final drive Saturday as the Wolfpack (1-1) held on for a 10-7 win over the Huskies (1-1).
"I wanted to get back out here and show people what I can do," said Amerson, whose interception was the 14th of his career. "Every time we get turnovers, we win."
Mike Glennon and UConn quarterback Chandler Whitmer each threw for 204 yards. But Whitmer had three passes intercepted as the Wolfpack forced four Huskies turnovers.
Glennon completed 15 of his 30 passes, including a 46-yard touchdown to Bryan Underwood. He also was sacked six times and N.C. State had just 258 yards of offense.
But the N.C. State defense held the Huskies to 239 yards and had three sacks, a week after giving up 524 yards in the season opener.
"That's what Coach (Tom) O'Brien talked about all week, was us coming out here and playing physical and aggressive, because that's what their defense was going to do," said safety Earl Wolff, who had an interception and a fumble recovery. "I feel like we matched their defense."
UConn's Lyle McCombs rushed for 60 yards and caught a 43-yard swing pass that set up his 5-yard fourth-quarter touchdown run to pull UConn to within three points with 7 minutes left.
Glennon opened the next drive by hitting Tobias Palmer with two quick passes to move into UConn territory. But the Huskies defense tightened up at the 27, and the Wolfpack, heading into a stiff wind, decided to go for it on fourth-and-2. Glennon's pass to Underwood fell incomplete, giving UConn one more drive with 3:17 remaining.
Whitmer moved the Huskies from their own 27 to the 46 before being sacked by linebacker Brian Slay on third down and having Amerson knock down the fourth-down pass.
"It's very frustrating," said Whitmer. "Our defense played great, and we need to take advantage of that as an offense and make plays for them. We need to bring up our level of play on offense."
A bizarre UConn turnover led to N.C. State's touchdown. Wolff tipped a Whitmer pass into the hands of Huskies tight end John Delahunt, who then fumbled the ball back to Wolff. Three plays later, Underwood ran under a Glennon pass, catching it with his fingertips at the 18-yard line and running the rest of the way into the end zone for a 10-0 lead.
"I beat the corner and I saw that Mike kind of threw it too far, but I just tried to go out and get the ball," Underwood said. "I just put my hands out and gripped it."
Amerson picked off Whitmer's pass on the next UConn play, but Niklas Sade's 44-yard field-goal attempt went wide right.
N.C. State's three halfbacks — Mustafa Green, Tony Creecy and James Washington — combined for just 82 yards.
The first points didn't come until late in the second quarter, when N.C. State put together the game's first sustained drive of 15 plays.
But after moving 61 yards, a sack by Trevardo Williams forced the Wolfpack to settle for a 40-yard field goal from Sade with just under 3 minutes left in the first half.
Connecticut's best scoring chance before halftime came when Nick Williams' 30-yard catch set the Huskies up at the N.C. State 37. But after a penalty, Whitmer tripped and fell while dropping back, and an 18-yard catch by Williams set up a fourth-and-2. UConn went for it rather than try a 47-yard field goal into the wind, and Whitmer was sacked by linebacker Rickey Dowdy.
UConn won the early battle for field possession, but could not capitalize. The Huskies failed to get a first down after starting their first three drives on their own 39, 48 and the N.C. State 45. The Huskies didn't have a first down until the end of the quarter when N.C. State's T.Y. McGill was called for roughing Whitmer.
The Huskies had just 111 yards and four first downs at halftime, but their defense held N.C. State to 116 yards in the half. Of the 69 plays before intermission, only 38 went for positive yards.
UConn, which plays Maryland next week, falls to 4-11 in games against the Atlantic Coast Conference.
N.C. State improved to 9-1 in games following a loss since the start of the 2010 season.
"Maybe our kids were looking at each other a little bit after last week and decided it was gut-check time," O'Brien said. "To win this one is a heck of a deal for our football team."
Copyright AP - Associated Press