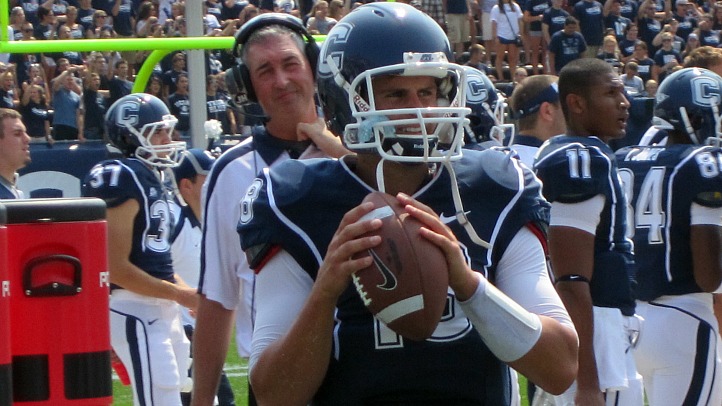 The Huskies officially settled on a starting quarterback last week, and Johnny McEntee went out and had the best game of his career against Western Michigan. If he had played like that in the second and third week of the season, UConn would've gone into Saturday's Big East warmup with a 4-0 record.

Instead, inexplicably, the defense was gashed, and one of the team's best players, tight end Ryan Griffin, had a critical late-game fumble that sealed UConn's fate. We might not speak disparagingly about either the defense or Griffin again for the rest of the season, but if you're looking for two reasons that UConn now heads into conference play at 2-3, there you have it.

"We've been good at getting the quarterback, we've been good in pass coverage, we've been assignment good and penalty-free for most of the season so it was shocking to see how many penalties we had and how many yards we gave up passing," junior linebacker Jory Johnson told the Hartford Courant's Desmond Conner.

Johnson undersells it when he calls what the Broncos did on offense "shocking." It would be more apt to call it "clinical" and "what you'd expect to see in a walk-through."

Western Michigan quarterback Alex Carder threw for a career-high 479 yards and five touchdowns, and his receiver corps looked like NFL first-round picks. Jordan White hauled in 12 passes for 173 yards and two scores, Chleb Ravenell added nine catches for 123 yards and two scores, and Robert Arnheim added 10 more for 113.

After the game, head coach Paul Pasqualoni got our vote for the understatement of the day when he talked about what happened against the Broncos' offense. "When it's those numbers, usually, it indicates you weren't able to get to him enough, you weren't able to harass him enough," UConn coach Paul Pasqualoni said. "The quarterback was able to get the ball to the open receivers. I thought we slowed them down a little bit in the second half, especially in the third quarter, we kept the ball from [receiver Jordan White, who had 12 catches for 173 yards and two TDs]. Carder did a pretty good job getting the ball to other people."

McEntee, for his part, completed 22 of 39 passes for 300 yards. He also tossed a career-high four touchdowns, and perhaps more importantly, he didn't throw an interception. He was also leading the Huskies down the field on that last fateful drive when Griffin, after hauling in a 28 yard pass down to the Broncos' 13, fumbled.

"I just said shake it off," McEntee said when asked what he said to Griffin after the play. "It didn't come down to that. We had a lot of things go wrong in the whole game. I don't want him to feel like he lost it for us."

McEntee's right -- and it's the right thing to say. That said, it would've been nice to see what he would've done with less than a minute to go and the Huskies needing a touchdown to tie.

No time to feel sorry for themselves, though; the rest of UConn's schedule will be against Big East opponents. They have to figure out what's wrong and fix it quickly. The good news is that McEntee has shown marked improvement the last two weeks. The bad news is that the defense was eviscerated against a Western Michigan team the Huskies should have beaten.