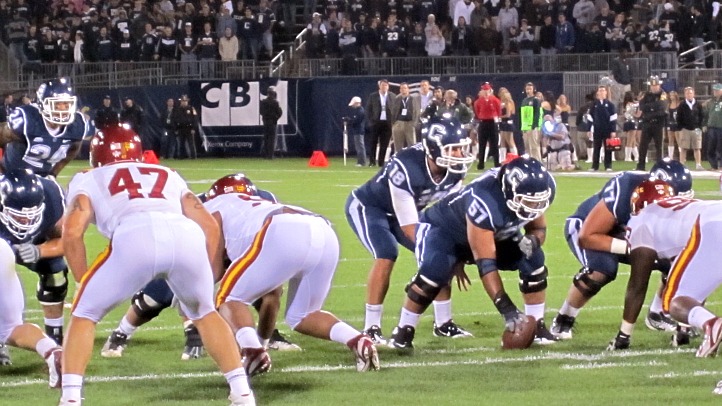 Earlier this month, we posted the first of what's sure to be many preseason predictions for the Big East in 2012. The Huskies were picked to finish sixth in Phil Steele's annual College Football Preview, down a spot from his 2011 forecast.

Last week, Athlon got in on the fun, pegging UConn as the No. 7 team in the conference ahead of newcomer Temple. "If the offense is better, the Huskies should easily improve upon last year's five wins," the magazine noted. Of course, they ranked them next to last, which suggests that the folks at Athlon don't expect the offense to be much better.

But not everyone feels that way (including us). Here's what ESPN.com Big East blogger Andrea Adelson wrote Thursday about UConn's chances next season.

"The Huskies were my 'sleeper' pick a few months ago. I think they have the potential to have one of the top defenses in the league, with the top returning sack man back in Trevardo Williams, along with unheralded linebacker Sio Moore and lockdown cornerback Blidi Wreh-Wilson. If the starting quarterback can provide any measure of consistency in teaming with Lyle McCombs in the backfield, UConn will have a great chance of surprising people."

And that's the takeaway: it's not that anyone expects the Huskies to win the Big East going away and find itself in another BCS Bowl game. But it's reasonable to think that UConn's offense should be a lot better. If for no other reason than the quarterback -- whomever it is -- will be better. Last year's starter Johnny McEntee was inexperienced and and the unit was without its best receiver, Michael Smith, who was declared academically ineligible. And if McEntee doesn't win the job this fall, it will be because Scott McCummings, Michael Nebrich, juco transfer Chandler Whitmer or true freshman Casey Cochran outplayed him for the job. Nothing like a little competition to raise everyone's game.

More reasons for optimism: in a separate post, Adelson identified some of the conference's rising stars and the Huskies had three players make the list, including … a quarterback (seriously). Whitmer, who played so well in the spring that the media was already convinced that he had won the starting gig (coach Paul Pasqualoni was more measured in his assessment, and like last year, will wait until August to make a decision). The other UConn players were linebacker Yawin Smallwood and linebacker Sio Moore.

We've said this countless times before, but at the end of the day, nothing said or written over the summer really matters. Preseason predictions are a way for fans to cope with the pangs of the offseason. It's a coping mechanism loosely based in reality. Most of us realize this … and don't care. With training camps still more than a month off, anything to help pass the time -- imagined or otherwise -- is appreciated.