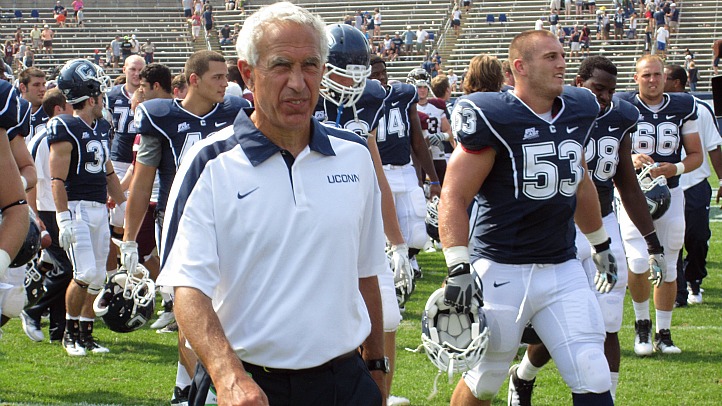 Good news: the Huskies had five players drafted last weekend -- a school record -- and another two signed as undrafted free agents.

Bad news: in two seasons under Paul Pasqualoni, UConn has had back-to-back 5-7 seasons, and while athletic director Warde Manuel may support the coach (at least for one more season), the fan base remains skeptical. But there are reasons for optimism, starting with Pasqualoni's decision to strip George DeLeone of offensive coordinator/playcalling duties and hire TJ Weist to fill that role.

Still, from the perspective of May, the Huskies have a lot of work to do on both sides of the ball. And that, along with the 10-14 record, explains the post-spring practice rankings courtesy of ESPN.com's Big East blog.

Not surprisingly, Louisville and Teddy Bridgewater are No. 1, and Cincinnati is No. 2, but you'd have to scroll down the page to the eighth spot to find UConn. Just below new member SMU and above Temple and Memphis. Not exactly a who's who of college football powerhouses.

Here's what ESPN.com's Andrea Adelson had to say about the Huskies at No. 8: "The Huskies dropped another spot because there are more questions on this team than just about any in the league. Will the offensive line be better? Will Chandler Whitmer improve? Where is the depth at running back? And how does the defense deal with losing four NFL picks?"

In Pasqualoni's first two years, the biggest issues were on offense. The defense, led by Don Brown, was one of the best unit's in the country. Now, however, UConn has lost both starting corners (Dwayne Gratz, Blidi Wreh-Wilson), and it's heart-and-soul linebacker (Sio Moore), not to mention Brown, who took the defensive coordinator job at Boston College.

Offensively, Whitmer enters his second year but it will be with a new offensive coordinator (Weist almost certainly will be an improvement over DeLeone, but there's still the issue of having to learn a new scheme). But the hope is that running back Lyle McCombs will have a bounce-back year after a forgettable sophomore season, and that the young, unproven wide receivers will step up.

The bottom line: there are a lot of "ifs," and it's perfectly reasonable for the media to have low expectations for the 2013 Huskies. That said, Manuel probably won't be happy about another 5-7 season, which means that Pasqualoni will have to do his best coaching job yet.