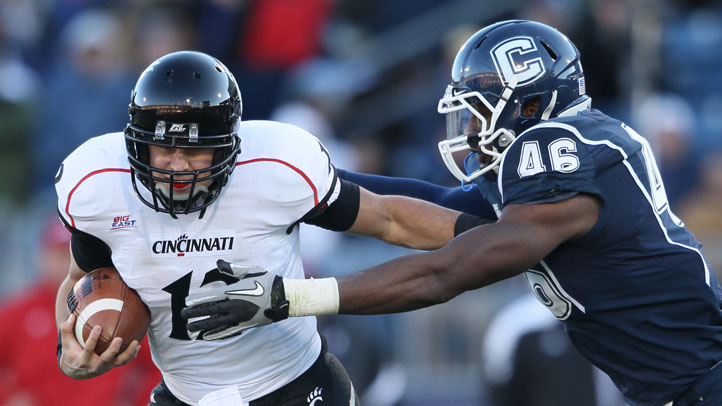 Some may call it a bug, others prefer to look at it as a feature. Whatever your perspective on the Big East reshuffling, here's the silver lining for the Huskies (although we'll concede it still doesn't make up for Boston College's admitted role in keeping UConn out of the ACC): more players named to Phil Steele's preseason all-conference team.

All right, it's not much but it's something, and after the Huskies' five-win season in 2011, any news is good news. With that out of the way, to the results...

Last June, 17 Huskies made Steele's list that ran four teams deep (that's how you get 17 UConn players on it) but only four names made the first team: Mike Ryan, Kendall Reyes, Sio Moore and Blidi Wreh-Wilson. Ryan and Reyes are gone (Reyes was the Chargers' second-round pick in April's NFL Draft; Ryan's trying to catch on with team) but Moore and Wreh-Wilson are back. This year, RB Lyle McCombs, TE Ryan Griffin, G Adam Masters, DE Trevardo Williams, PR Nick Williams and Moore and Wreh-Wilson made the first team.

As SB Nation's UConn Blog jokes, it's one of the unintended benefits of West Virginia high-tailing it to the Big 12: more all-conference honors for everybody else.

Here are the Huskies to make the 2012 preseason All-Big East second, third and fourth teams:

2nd team
* LB Jory Johnson
* P Cole Wagner

3rd team
* WR Michael Smith
* DE Jesse Joseph
* CB Dwayne Gratz
* KR Nick Williams

4th team
* LB Yawin Smallwood

It gets better. Steele writes that "Connecticut leads the way with seven 1st-Team selections including RB Lyle McCombs. USF, Pittsburgh and Rutgers … each have five selections. Overall, USF and Rutgers had the most players on the team with 19 each while Pittsburgh had 15."