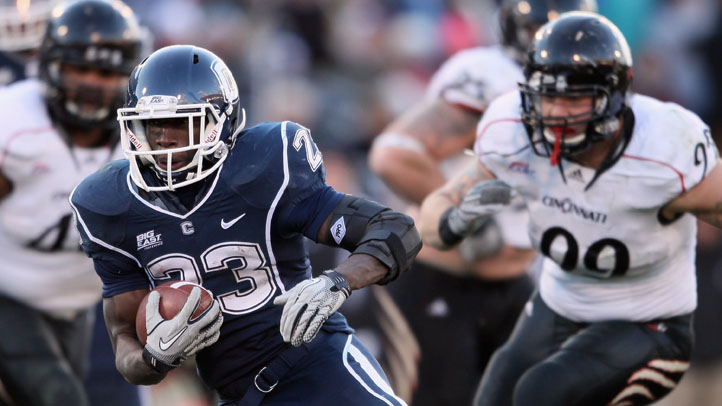 Coach Paul Pasqualoni has released the final spring depth chart and, as promised, the quarterbacks are listed in alphabetical order. That's not a coincidence, just further proof that the position won't officially be decided until the fall. For now, the names are placeholders written with a metaphorical pencil.

A position a tad more settled: running back. Heading into the summer, the depth chart looks like this:

D.J. Shoemate, Sr.
Lyle McCombs, RFr.
Martin Hyppolite, RSo.
Jordan Huxtable, So.
Jonathan Jean-Louis, RSr.

This group combined for 31 carries, 120 yards and one touchdown last season. Jordan Todman, the man they will collectively try to replace, was the 2010 Offensive Big East Player of the Year and San Diego Chargers sixth-round pick. He racked up 1,695 rushing yards on 334 carries, and 14 touchdowns.

And that brings us to this: Brian Bennett, ESPN.com's Big East blogger, polled his readers on which player in the conference would be the hardest to replace in 2011. Todman was the runaway winner (getting 40 percent of the vote) with West Virginia defensive tackle Chris Neild second (he got 30 percent of the vote).

Bennett writes:
I believe [Todman and Neild] are the two right choices, and it's a tough call on which one will be tougher to replace. Todman obviously had a tremendous 2010 season, but the Huskies have shown the ability to plug in new tailbacks and keep churning out the rushing yards behind a standout offensive line. The difference this season is that there is no heir apparent, at least that we can tell, unless D.J. Shoemate, Lyle McCombs or someone else really steps their game up.
Since the 2008-2009 season, the Huskies' top two rushers have been Donald Brown (2,187 yards, 18 TDs in 2008) and Todman (318 yards, 3 TDs in 2008), Todman (1,237 yards, 14 TDs in '09) and Andre Dixon (1,093 yards, 14 TDs in '09), and Todman and Robbie Frey (414 yards, 4 TDs in '10).

In general, it's much easier to replace a running back (even a really good one) than it is to replace, say, a quarterback. Of course, UConn is currently looking for one of those, too.