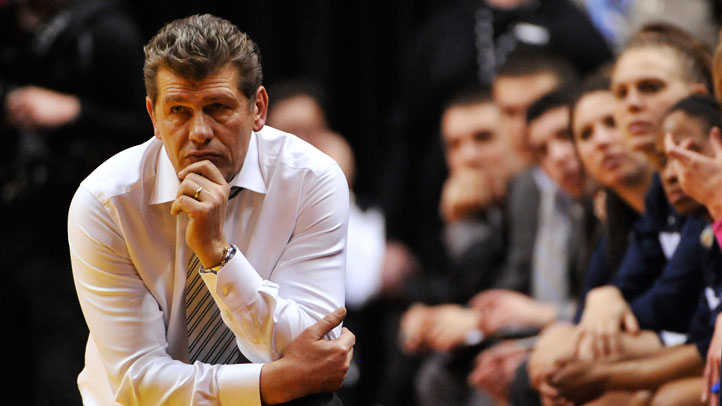 UConn may have lost four games this season -- their largest total since 2006-07 -- but they won the Big East Tournament over Notre Dame and Monday night, the selection committee announced that they would be the No. 1 seed in the Kingston, Rhode Island Region. The Huskies will face SWAC champions Prairie View A&M (17-15) on Saturday at 1:30 p.m. in Bridgeport.

As ESPN's Trey Wingo noted during the selection show, the Huskies won't have to do much traveling. The first two rounds of the tournament will be at Webster Bank Arena in Bridgeport, 72 miles from campus. And the regional matchup will be in Kingston at the Ryan Center, 57 miles from campus. It's a big advantage at this stage of the proceedings -- players are exhausted after more than four months of basketball, and nerves are frayed because of what's on the line.

In terms of what Auriemma's group brings to the tournament, a little history: the Huskies have won 30 games in 16 of the last 18 seasons (and with 29 wins in 2011-12, they'll likely add to that total). Over that span, UConn never finished worse that the Sweet 16, and have seven national titles. It's an amazing accomplishment and a testament to what Auriemma has built in Storrs. He arrived in 1985 and his team has been to the Big Dance every year since 1988.

Put differently: expectations are exceedingly high, which puts Wingo's observation Monday night into perspective: "Well, you know you're a good program when you lose four games and people are saying what the heck is going on at the University of Connecticut."

The answer: business as usual. First up: Prairie View. And if the Huskies advance, they'll face the winner of the Kansas State-Princeton game.