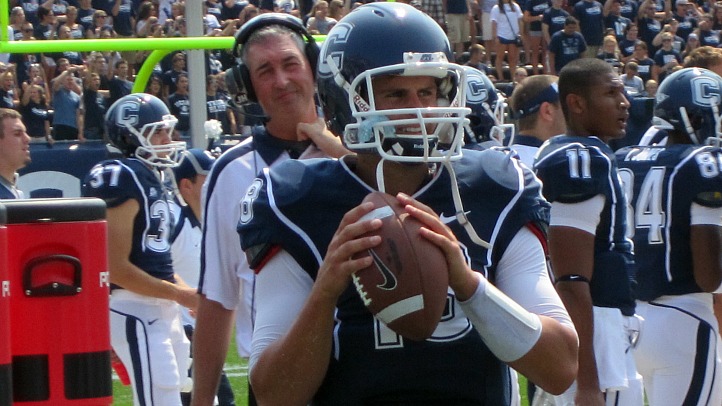 Spring practice is underway for the Huskies and just like a year ago, one of the biggest questions is the quarterback position. Unlike a year ago, UConn has their starter in camp it's just that Johnny McEntee, the former walk-on, isn't assured of the job moving forward.

Part of the reason is that there's legit competition but it's also because McEntee was unproven and inconsistent last season. Either way, the Huskies have five quarterbacks vying for playing time, including freshman Casey Cochran, the two-time Gatorade Connecticut State Player of the Year. There's also rising sophomores Michael Nebrich and Scott McCummings, and transfer Chandler Whitmer who, as the Hartford Courant's Desmond Conner wrote Wednesday, isn't very big (6-1, 191 pounds) but was plenty effective at Butler (Kansas) Community College (they were undefeated and Whitmer was honorable mention All-American).

"It was a great out there," Whitmer told Conner about his first day of practice. "Our bowl game seemed so long ago so it felt great getting back out there to play. First day install we've had time to get it down and I feel like I've put in some extra time to get that down but I just have to stay on top of it as we install more and more each day. That's my biggest goal this spring to stay on top of it."

It also didn't take long to dust off the most popular question from last offseason: so who's won the starting job?

"Nobody has," quarterbacks coach Shane Day said earlier in the week according to the AP. "We go into staff meetings and we'd be like, 'Coach, no one has ever done this.' There have never been five quarterbacks where you've got split the reps." Still, head coach Paul Pasqualoni welcomes the challenge (after all, it's better to have too many than too few, right?).

"That's the fun part of this time of year," he said. "We don't have to get ready to play anyone in a week, so we just grind this away."

For now, Day says he hopes to come out of the spring with a starter but acknowledges that it might not happen. So we still have some five months to settle on a starter. If it's McEntee, he'll have a year's experience under his belt which can only benefit him and the offense. If it's one of the other four names, then the Huskies will head into the season with a rookie signal caller but comforted by the fact that McEntee is a capable backup.

For now, the Huskies are just looking to get better and improve on last year's 5-7 record. Given how well Pasqualoni and his staff have recruited the last 12 months, that shouldn't be a problem. Especially now that UConn will be much improved at quarterback.