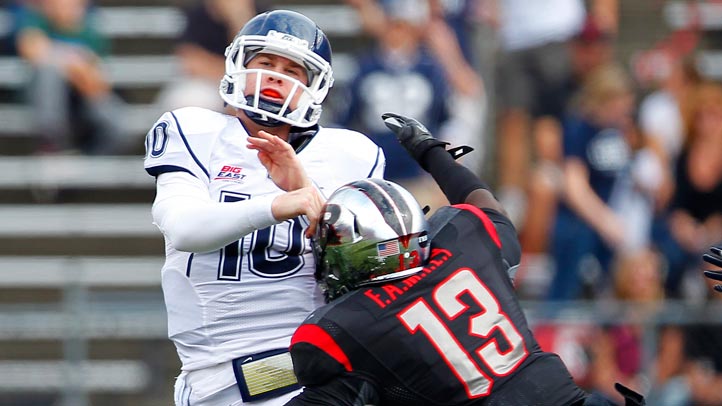 It's down to this. After a 3-5 start with a schedule that could have easily yielded two, maybe three more wins, the Huskies have been reduced to empty promises of success over the final month of the season even though there's no reason to expect a sudden turnaround in their fortunes.

The tough sledding starts Saturday night in Tampa when UConn faces USF, and if the team is to have any chance of salvaging the season this is a must-win.

"We still have a chance to make a bowl game and that's where our focus is now," said linebacker Jory Johnson, via the Hartford Courant.

It's one thing to proclaim that things will change it's something else entirely to make them happen. Through eight games, the Huskies have looked out of sorts, especially on offense. It was so bad, in fact, that there have been questions about if offensive coordinator George DeLeone should be replaced.

That's not happening, at least not now.

"I think what George is doing, is he's trying to run the offense that we'd like to establish which is a pro-style attack," Pasqualoni said. "It's been in the DNA at UConn so George is doing a great job of preparing every day for practice, trying to help the team win, coaching the players, the offensive line plus coordinating it. He's a tremendously conscientious individual and everything he does is planned and well thought out."

Not only that, but Pasqualoni doesn't see the benefits to making a change in the middle of the season. "I don't think after eight games you change everything you do," he said via the New Haven Register. "That is not easy to do. We've been really, really close in a lot of these games. It has been one thing here and one thing there. I just look for greater efficiency and not turning the ball over, not getting behind, not giving up plays in the kicking game. I don't think you can start to make wholesale changes at this point."

And so the season marches on. Whether the Huskies magically improve is another issue.