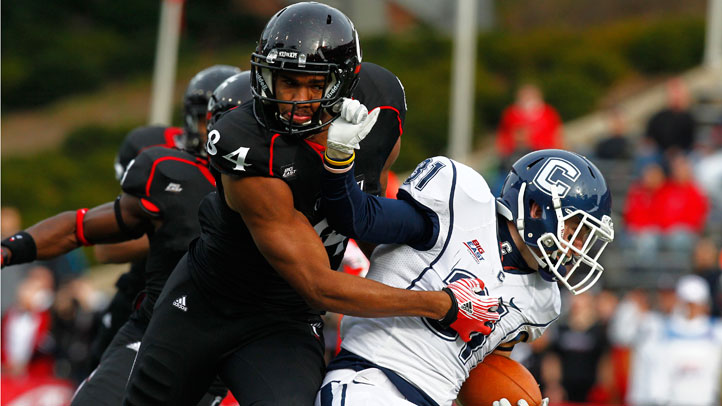 Saturday's game, which turned out to be the last for the 2011 Huskies, was a microcosm of the season. Costly turnovers, ill-timed mistakes, and not enough offense to overcome it all once again proved to be UConn's downfall. But unlike last year's club, this group is a young, inexperienced bunch and expectations were muted heading into head coach Paul Pasqualoni's first season.

Against Cincinnati Saturday, two early UConn turnovers were converted into 14 Bearcat points, and by the half, Cincy led 22-0. The Huskies' comeback bid came up short and when it was over, they lost by eight, 35-27.

"We made some very costly mistakes, especially early in the game, and really didn't play well in any phase of the game early," UConn coach Paul Pasqualoni said, via the Hartford Courant. "You're on the road against a quality opponent in your conference, they're playing for a very meaningful season, we're playing for a very meaningful season. You have to play well and we didn't play well enough. You have to give them credit. I'm proud of the way [our] players and the coaches hung in there, kept trying to find a way to figure out how we could get the thing at least tied. We had a lot to overcome in this game and it's a lot to overcome and we almost did it. We're proud of the way we fought and hung in there."

The Huskies end the year 5-7 (3-4 in the Big East) and the Bearcats share the conference title with West Virginia and Louisville (although the Mountaineers will get the BCS Bowl bid by virtue of being the highest-ranked Big East team).

One of the ancillary benefits to a win Saturday would have been that not only would it have qualified UConn for a bowl game, but it would have allowed Pasqualoni and the coaches another couple weeks to practice with their young team. That's obviously important for any game they might have played in December, but it could have also been a critical head start to spring practice, too.

"It's a disappointing loss, but I'm very proud of the way kids fought back," Pasqualoni said Sunday, according the Courant. "Proud of the effort of trying to win the game, figuring out a way to try to win the game, by everybody, players and coaches on the staff."

"Unfortunately, we don't have an opportunity to continue practicing and get those extra bowl practices to me, which to me is very helpful in the development of your team," Pasqualoni added.

If there is a bright side -- something to build on going into the offseason -- it's that the Huskies shrunk a 28-6 halftime deficit to a one-score game late in the fourth quarter. It's the definition of a moral victory but that's all UConn has right now.

"Initially, we will go right into the strength and development phase of it," Pasqualoni said of what's next for the team. "We will spend time lifting heavy weights; the core lifts are bench, clean and squat, so we'll do that. We will also spend time on speed and agility development. That certainly will be a part of it. The NCAA rules also allow you to spend two hours a week, I believe it's two hours a week on film, so we will also have a chance to go into the film room and watch film, try to get some of that work in. We'll do that up until the time that it's spring break. When they come back from spring break we will start spring practice."

The 2011 season is in the books, but come Monday, the 2012 season officially begins.