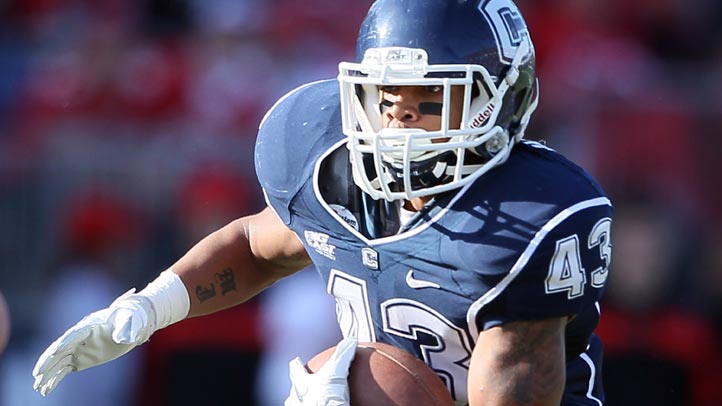 Mercifully, the Huskies are off this week. That means no heartbreaking loss, no further proof that UConn isn't bowl-worthy, or more generally that the game has passed by coach Paul Pasqualoni and offensive coordinator George DeLeone. Think of it as an early Christmas gift.

But now the real work begins. Pasqualoni and DeLeone have to fix this offense, specifically the running game (sound familiar?). UConn currently ranks 120th in the country in rushing yards, a far cry from one of the team's few weapons a season ago.

ESPN.com Big East blogger Andre Adelson addressed this issue in her latest video post. A lot of this sounds familiar but we figure you can't hear it enough.

"UConn enters its bye week after … a very disappointing performance in a 40-10 loss to Syracuse. So what's item No. 1 on the agenda as they try to become bowl eligible (they've got to win three of their final four games to get there)?

"Well, it is -- take a wild guess -- run offense. This has been a complete disaster for the Huskies this season. Quite frankly that's just unacceptable for UConn, a program that has thrived on being able to run the football. … It was only a couple of years ago that Jordan Todman was back there running for 1,000 yards. …

"But if UConn can't run the ball they're not going to be able to beat you with the pass. They've shown that in the last couple of weeks. … The offensive line has looked even worse than last season, Lyle McCombs is not anywhere near the player he was a year ago so that is a big reason why UConn is struggling once again to get to bowl eligibility. Paul Pasqualoni knows he's got to get this fixed this week or things could look pretty grim for the remainder of the season."

We'd love nothing more than to see the Huskies win three of four and get a bowl berth. Partly because the football program could use some good news, but also because we're tired of watching some pretty uninspiring football. The reality, however, is that this team is going nowhere, fast. And we're not sure if Pasqualoni can fix it in a week.