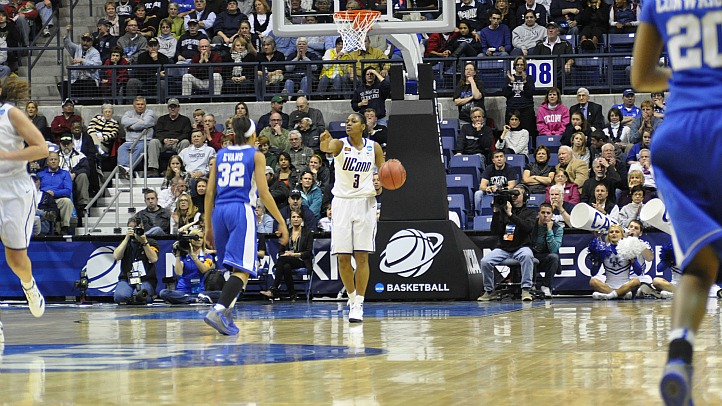 When the Huskies started their Elite 8 meeting with Kentucky on a 9-0 run, their ticket to Denver and the Final Four seemed like a formality. By the time it was over, UConn won going away, 80-65, but it took 20 minutes for them to find their footing. The Wildcats, much like the men's team, is long on athleticism, quickness, tenacious defense, and long-range shooters. And they used all of those attributes to keep things close in the first half. By halftime, the Huskies clung to a 41-39 lead but looked out of sorts, unable to handle Kentucky's pressure.

"You can't win games like this if you keep giving them points," coach Geno Auriemma said as he headed to the locker room at the break. "… when we come out in the second half -- I'm not worried about their pressure -- we've got to stop putting them on the free throw line."

And that's exactly what happened. In addition to this: the Huskies' defense forced the Wildcats into tough shots, they subsequently converted in transition, and capitalized at the free throw line where they made 30 of 35 looks.

And while this Huskies team is known for it's machine-like production on the offensive end, it's their defense that came through again, this time catapulting them to the Final Four. Just how stifling have they been? Consider this: 26 of 36 opponents have shot no better than 35 percent from the field. Kentucky shot 28 percent Tuesday night -- their worst effort on the season.

Individually, the Wildcats didn't have an answer for center Stefanie Dolson, who controlled the paint both offensively and defensively, and when the Huskies were struggling in the first half, the offense ran through Dolson who distributed the ball from the top of the key. She finished the night with 13 points, 8 rebounds, 3 blocks and 5 assists.

Tiffany Hayes found herself in Auriemma's dog house after a poor practice Monday. It was so bad that Auriemma wondered if Hayes would show up in UConn's biggest game of the season. That's been a recurring storyline during her career -- that while she's a great college player, Hayes has been known to disappear when everything's at stake. That wasn't a concern against Kentucky. Three words probably best describe her performance: she went off.

Hayes ended the evening with 22 points, 8 rebounds and three steals. And Auriemma, who has been hard on this squad for most of the season, took a moment to reflect on what they've accomplished.

"They've worked really, really hard," he said after the game. "They've fought all season along against a lot of different things we've thrown at them. I'm proud of them because there wasn't a Maya Moore or Tina Charles or Renee Montgomery to bail them out, and they found it within themselves and I'm really, really proud of this team."

Now the Huskies are on their way to their fifth consecutive Final Four (13th overall). They'll face Notre Dame and join Stanford and Baylor, all No. 1 seeds in Denver.