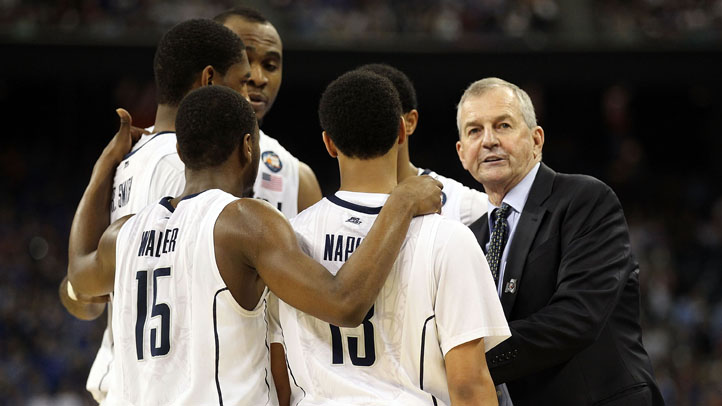 On Wednesday, we talked about Shabazz Napier's impressive showing during informal workouts with just about every member of the 2011-12 UConn men's team. Hopefully, it's a harbinger of things to come as the young, Kemba-less Huskies defend their national title.

Unlike last season, when the offense began and ended with Kemba Walker (at least until the postseason, when Jeremy Lamb consistently started shouldering some of the burden), this time around it will truly be a group effort. From Alex Oriakhi and Roscoe Smith inside, to Napier and Lamb in the backcourt, to contributions from players off the bench like Tyler Olander and Niels Giffey, and the freshmen, Ryan Boatright and DeAndre Daniels.

The Huskies may be out of the running for the nation's best high school player, Andre Drummond --at least for now-- but they're still recruiting. (Because no matter what he's not saying about his future, coach Jim Calhoun knows that recruiting is the lifeblood for any program.)

On Tuesday, two prospects showed up in Storrs: Noah Vonleh (forward, class of 2014) and Zach Auguste (forward, class of 2012), both from the New Hampton School in New Hampshire. The visits were unofficial, but the Huskies are said to be interested in both players.

The Hartford Courant's Mike Anthony writes: "Vonleh might be the most intriguing, in the long run. He's 6-foot-7 with a wingspan of 7-4. And he's just 15 years old. He's leaving Haverhill (Mass.) High to repeat his sophomore year at New Hampton. Rivals.com ranked him as the 84th best player in the class of 2013 before he reclassified. Look for Vonleh to emerge as one of the more sought after recruits in the nation over the next couple of years."

ESPN's recruiting service notes that, "While Vonleh's body and skill set continue to develop at a rapid rate, his long term potential and upside are undeniable. He has a long and strong frame, a tremendously efficient floor game, and instinctive star qualities."

Of course, top-flight high school players don't go unnoticed. ESPN points out that North Carolina, Kentucky and Syracuse are keeping tabs on Vonleh, and back in March, Kansas offered him a scholarship (he also had offers from Pitt and BC).

But UConn can recruit with any program in the country and winning the national championship certainly doesn't hurt those efforts.

"Obviously in New England, we're all Connecticut fans," said Vin Pastore, who coaches both Nonleh and Auguste in the Rivals Basketball Club AAU program in northern Massachusetts. "I don't know there there's more of a buzz, to be honest with you, I think being a New Englander, if you love college basketball, you love UConn, you always have, and you love the players. I've seen 50 games in this gym [Gampel]. For kids their age, there's maybe more of a buzz for them."