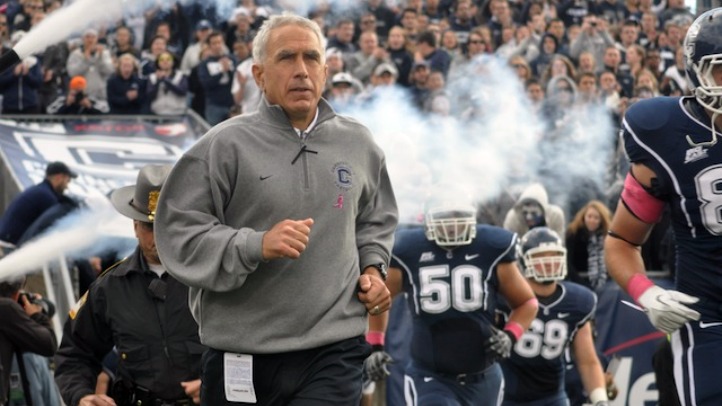 The Huskies get a much-deserved break this week after their come-from-behind win over Syracuse last Saturday in the inaugural Pasqualoni Bowl. But just because the team is off doesn't mean their issues magically disappear. The offense had five first-half turnovers against the Orange and things got so bad that quarterback Johnny McEntee was booed loudly on several occasions.

The media has suggested at various points this season that McEntee be benched in favor of freshman Scott McCummings, although head coach Paul Pasqualoni seems resigned to sticking with McEntee. (Though he admits that McCummings will still have a package of plays every game.)

If you're a fan of quarterback controversies, enjoy this season. Because Casey Cochran, the Gatorade State Player of the Year in Connecticut, will be a freshman next fall and it's reasonable to think that he'll be given every opportunity to win the job.

Typically, freshman redshirt, and perhaps that's an option for Cochran. It's just that the Huskies have a huge need at the most important position on the field, and Michael Nebrich, a true freshman this season, was in the mix for the starting gig during training camp. Unless something changes and the Huskies find a quarterback to build an offense around, Cochran could skip the redshirt.

And that brings us to this: could UConn be in the market for an experienced QB? Maybe. On Wednesday, the Hartford Courant's Desmond Conner was asked if the Huskies had shown any interested in Grand Rapids Community College QB Cody Kater.

"I've just heard UConn is evaluating him and that the Huskies are on the list of schools he's considering," Conner said.

According to the Detroit Free-Press, Kater is an intriguing prospect:
When he signed with Cincinnati (before later transferring to GRCC), Kater was 6-foot-4 and 200 pounds. Almost two years later, Kater is up to 235 pounds and his 40-yard dash has been hovering around 4.7 seconds. Kater has recently picked up his first offer as a junior college transfer and it's from Central Michigan. There are three other schools that are major players for him: Connecticut, Minnesota and San Diego State. He has also drawn interest from Appalachian State, Colorado, Georgia, Michigan State, Toledo and Wisconsin
"Central Michigan certainly has a special spot in my heart," Kater told the Free-Press. "I was committed there for about seven months and it's only an hour and a half from my home town. I'm pretty open-minded right now, but Central Michigan is definitely up there."

Kater wants to enroll in school in January and will have three years of eligibility. GRCC is 11-0 and are the fifth-ranked team in the nation.