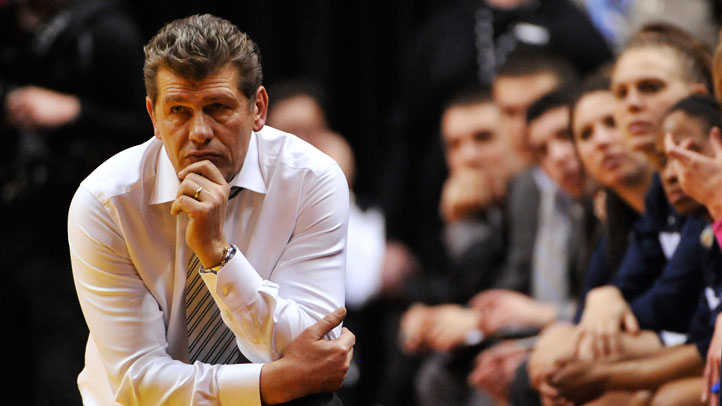 Apparently, the old expression "Time heals all wounds" doesn't hold when it comes to the rivalry between UConn and Tennessee. Earlier this week, according to the Hartford Courant's John Altavilla, a source from UConn and another from Tennessee say that both sides "would be willing to discuss the resumption of a regular-season series between the two national powerhouses, as soon as the 2013-14 regular season."

The teams haven't played since 2007, when the Lady Vols were in the middle of a three-game winning streak between the teams. The series stopped for, among other reasons, coach Pat Summitt's issues with Geno Auriemma, particularly, the recruitment of Maya Moore, arguably the best player in UConn history.

Which makes this quote all the more understandable: "I can understand why UConn would be interested in it," the Tennessee source told Altavilla. "It wasn't their decision to end the series in the first place."

There has been nothing formal, but the resumption of one of the biggest rivalries in women's basketball can only be good for a sport forever looking to interest new viewers.

More from Altavilla on the history between the two programs:
The schools had played 22 times since UConn's famous victory over Tennessee at Gampel Pavilion on Jan. 16, 1995. UConn won 13 of the games, including four national national championship games (1995, 2000, 2003 and 2004). But Tennessee had won the final three games prior to the end of the series.
In October, 2010, Altavilla wrote about the possibility of a UConn-Tennessee reunion only to have Summitt talk about coaching ethics with her comments presumably aimed not at former Vols men's coach Bruce Pearl, but Auriemma.

"For me, I've never compromised at all, and I wouldn't. And if I did, they should fire me," she said at the time. Later, when asked who she was talking about Summitt said "I wasn't even talking about Bruce Pearl. It never entered my mind. ... By me saying that, I was talking about the women's game. Seldom do you see that (recruiting violations in women's basketball). I didn't have Bruce Pearl on my mind. I probably had Connecticut on my mind. There's a reason we don't play them."

Unfortunately, nothing has changed. On Tuesday night, Altavilla posted this to his Courant blog: "Tennessee has no plans to resume the series with UConn," said Lady Vols spokesman Eric Trainer.