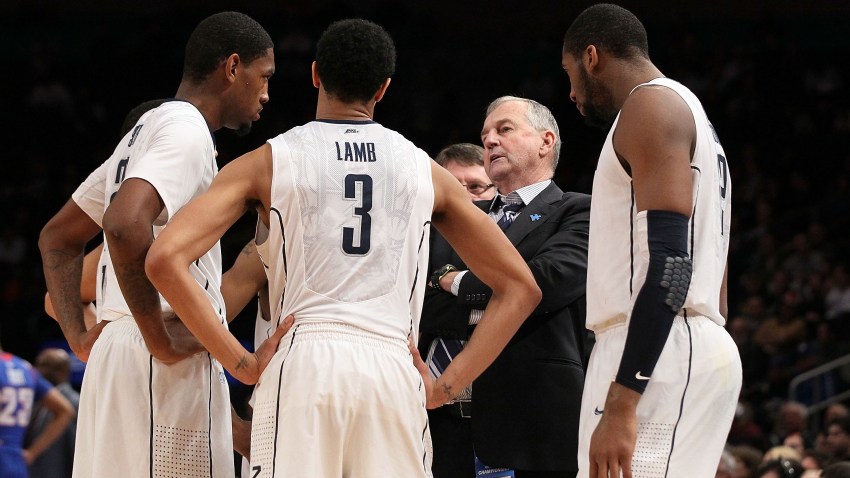 The UConn men's team is in desperate need of frontcourt help after losing four such players to either the NBA Draft or transfers. Forwards Alex Oriakhi and Michael Bradley have transferred to Missouri and Western Kentucky, while small forward Roscoe Smith is still weighing his options. Center Andre Drummond will be playing in the NBA next season after one year with the Huskies. (A fifth player, sophomore Jeremy Lamb, has also left UConn for the League, but he's a shooting guard.)

As it stands, the Huskies' frontcourt included rising juniors Tyler Olander and Enosch Wolf; the former has played frequently since arriving on campus. The latter, however, has seen limited action. The loss of talent and the limited experience explains UConn's need for frontcourt help. The Huskies were among the four finalists for high school big man Bradley Hayes, who recently postponed a visit to Storrs, presumably in light of the NCAA sanctions that will keep the Huskies out of the postseason in 2013. "We just decided we wanted to take a little bit closer look at some things surrounding the program," Hayes' father told ZagsBlog.com's Adam Zagoria. "We want B.J. to be in the best situation possible. At this time UConn is postponed."

While we wait for Hayes, UConn gets some good news. Again, via Zagoria, the Huskies received a verbal commitment from 6-10, 209-pound center Phil Nolan of Milwaukee Riverside.

"Basically, in my opinion, over the last three years UConn has been one of the best programs in the Big East and I know with some guys transferring and some guy entering the Draft, there will be minutes available to me as a freshman if I work hard enough," he told SNY.tv by phone via Zagoria. It's a great opportunity for me."

Nolan's right. It's the same logic Calhoun hoped would sway Michael Bradley to stay. Unfortunately, Bradley, who wants to be closer to his grandmother, has decided to transfer to Western Kentucky.

Nolan said UConn and St. John's were his finalists. Zagoria notes that, according to Rivals, Nolan is the No. 21 center in the class of 2012. He averaged 16.7 points, 9.4 rebounds, 3.0 blocks and 2.3 steals as a senior.

Nolan will join Omar Calhoun as the only other freshman of the Huskies' incoming recruiting class. Hopefully, that will change in the coming weeks and months.