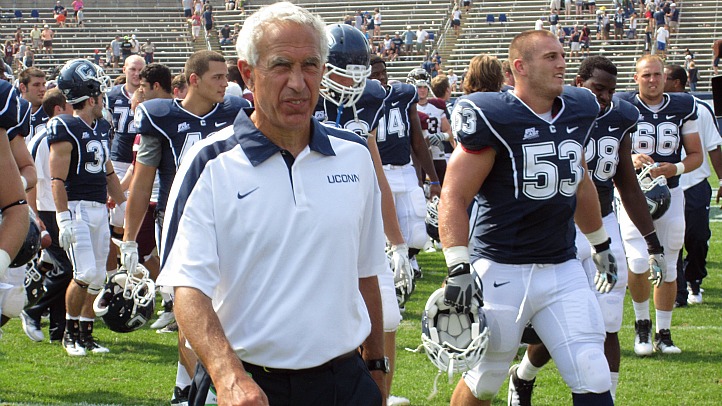 It took longer than some would have liked, but Paul Pasqualoni's Huskies have their first commitment for the class of 2014. St. Paul-Bristol quarterback Logan Marchi made the official announcement on Twitter over the weekend.

Details via SNY.com's John Silver:
Marchi is a 6-foot-1 175-pound quarterback who also had an offer from Temple and reported interest from Boston College. Marchi is the first high school commit for the Huskies. Marchi threw for 2,935 yards, 38 touchdowns and 10 interceptions for St. Paul.

The Huskies have one recruit in the 2014 class. That doesn't include players such as Jordan Fuchs, who signed in February but is expected to enroll in January and be a part of the 2014 class. New Jersey WR Jamar Summers committed to UConn in this class, but didn't sign scholarship papers as he looked to get his academic work in order. He could also enroll in January if he remains committed. The Huskies also have a pair of former commits at Dean Junior College in linebacker Jason Sylva and offensive tackle Rennick Bryan.
Marchi is now set to join a program that welcomed three quarterbacks in the 2013 recruiting class -- Tim Boyle, Kivon Taylor and Richard Lagow -- to go along with the three currently on the roster: Chandler Whitmer, Casey Cochran and Scott McCummings.

Whitmer appears to have a hold on the starting job after a solid performance as a redshirt sophomore last season, although Cochran, the former Connecticut Gatorade Player of the Year in high school, could push for playing time.

Earlier this month, Pasqualoni spoke about the current quarterback situation.

"We're going to have six (quarterbacks) here," the coach said, "three who are coming in who I think are excellent young prospects, starting with Timmy Boyle from Xavier High School right here in Connecticut. We've also got Kivon Taylor from Grady High School in Atlanta, Ga., and we have Richard Lagow from Plano, Tx. …

"So we're going to have a lot of competition, there's no question about it. Casey Cochran started to come on well at the end of spring ball, and, of course, Chandler is much more comfortable. So we're going to work real hard at the position, we think we have some guys that will emerge, and we're just going to have to see how it all shakes out at the end of preseason practice."

And a year from now, there will be at least one more name -- Logan Marchi -- added to the mix.