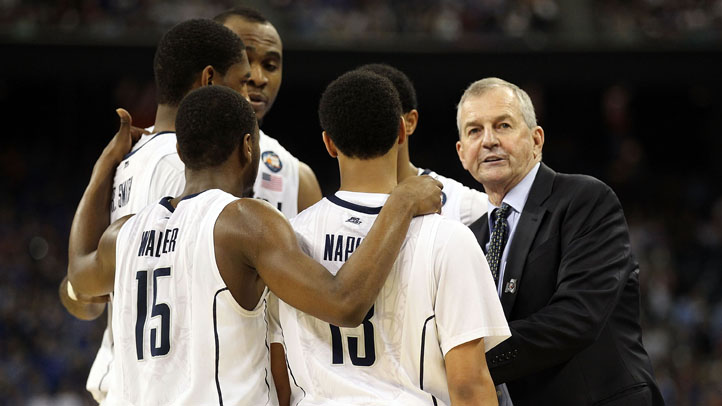 UConn may have just one incoming recruit for 2011-2012 but he happens to be Illinois' Mr. Basketball, Ryan Boatright. And with Kemba Walker taking his talents to the NBA and not much depth on the Huskies' bench, there's every reason to think that Boatright will get an opportunity to play often as a freshman.

If Jeremy Lamb, Shabazz Napier and Roscoe Smith were contributors last season with Kemba, then Boatright will not only get a chance, he'll likely be counted on next season. Even though they face possible scholarship restrictions in light of impending NCAA sanctions, the Huskies continue to recruit players for the fall.

Sterling Gibbs, who had originally signed with Maryland but was released from his letter of intent after Gary Williams retired, is on UConn's radar. Last week, assistant coach Kevin Ollie reached out to Gibbs' family, who have said they "have interest" in the Huskies.

Now there's another name to add to the list: Arizona transfer guard Momo Jones. On Wednesday Calhoun said that the team was looking to add another scholarship player now that Jamal Coombs-McDaniel is leaving, although the staff wasn't sure if the spot should go to a guard or a big man. ZagsBlog.com reports that "St. John's, UConn, Seton Hall, Hofstra and Iona are among schools that have expressed interest in Jones, who averaged 9.7 points, 1.6 rebounds and 2.4 assists last season at Arizona and said he would like to transfer closer to home."
It may seem odd that he's leaving a team that made it to the Elite Eight two months ago (before, you may recall, losing to eventual national champs UConn), but the New York Daily News reports that "there were signs of some friction during his two seasons there. Jones had criticized Sean Miller's system, which did not endear him to the head coach."

"More than anything it's about him wanting to live closer to New York and his mother and grandmother," [former St. John's and Seton Hall assistant coach Dermon] Player said. "You read the Internet and it says that Arizona got a better point guard that's coming in (Josiah Turner from Sacramento). Not true. Momo is an elite player and he's a competitor. He's never worried about his role. He just wants to be closer to home."

As for how Jones would be eligible to play in 2011-2012, Player says that Jones is prepared to sit out next season. The Daily News, however, mentions a "published report that he may seek a waiver to play immediately."

Whatever happens, the Huskies have a slim margin for error next season. the 2010-2011 campaign proved that this group can overcome the seemingly insurmountable, but it's not a strategy you want to build a program around. If the Huskies can survive, though, the 2012-2013 class could really be something special.