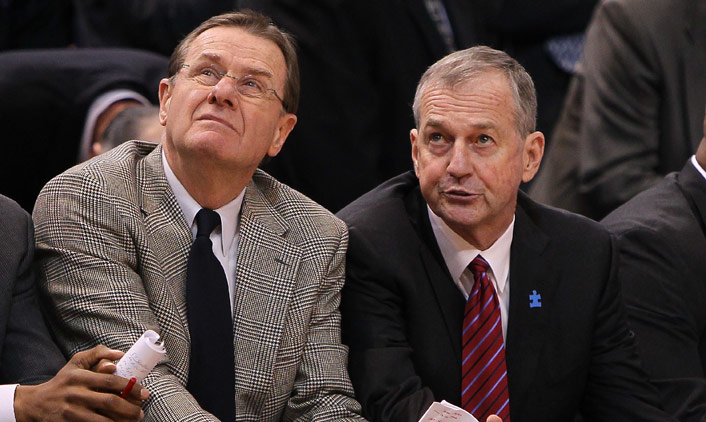 In case it wasn't obvious by the recent focus on this blog -- the UConn men's basketball team -- that's the primary story coming out of Storrs, even with the Blue-White game just in the books and the NFL Draft just days away. And lost amid the news that the Huskies have lost five basketball players in about a month, and that the program is ineligible to play in the 2013 postseason because of low Academic Progress Rate scores, is coach Jim Calhoun's future.

Calhoun has spent the last quarter-century as UConn's coach but he'll be 70 next month, health issues have forced him to miss games in recent seasons, and then there are the NCAA sanctions for both recruiting violations and underwhelming academic performance. In recent weeks he's sounded as if he will return, if for no other reason than to right the program before he retires in earnest. But as the New Haven Register's David Borges writes, more than anything the Huskies could use stability, perhaps in the form of Calhoun making his future coaching plans clear up to and including naming a successor-in-waiting.

"The longer Calhoun waits to decide whether he'll return for another year, another couple of years, or simply retire, the more UConn gets burned on the recruiting trail," Borges wrote Monday. He then put the question to a prep school coach who has had several players recruited by the Huskies.

"If you're asking me as someone who would advise a kid, I'd have a hard time telling him he's going to play for Jim Calhoun for four years," the coach told Borges. "And I don't think, unless they have a much better year next year, that he's going to have a guarantee that he's going to be able to name a successor. Those are pretty big sticking points."

"Any time you can show continuity, where the program is going to be, you allow a kid to make a four-year decision — regardless of whether he wants to be in college for four years."

Kevin Ollie has been a UConn assistant for just two years but he's widely considered as the guy Calhoun has handpicked to replace him. New athletic director Warde Manuel is said to be lukewarm to the coach-in-waiting idea but as Borges writes, that could change as he gets to know Ollie. For now, the program is in flux and the prep school coach offers some insight into why: the general feeling around the 2011-12 Huskies was that "didn't get along well ... at all," the coach told Borges, particularly the guards.