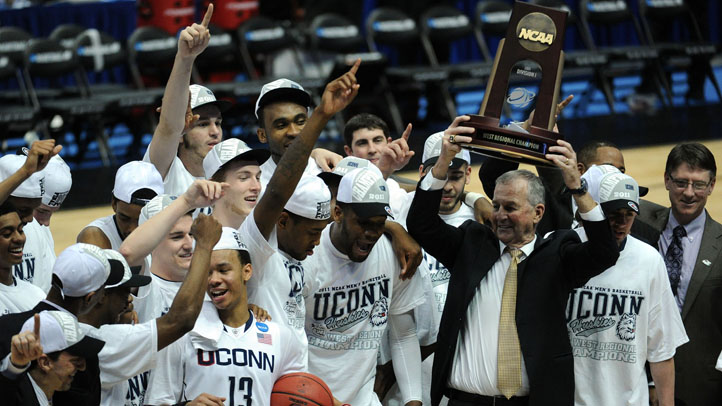 The big news in UConn basketball is that Andre Drummond will be suiting up for the Huskies this season, even though he didn't commit to UConn until last month. (Never mind that the Huskies didn't have a scholarship readily available for Drummond either; that's a story for another time.)

So while UConn will spend 2011-12 defending their national title, they're already making plans for the 2012-2013 season, too. Details via the Associated Press:
SAN DIEGO (AP) - Three-time national champion Connecticut has signed a deal with the Morale Entertainment Foundation to play in the second edition of the Carrier Classic basketball game in 2012 aboard an aircraft carrier on San Diego Bay.

Coach Jim Calhoun and UConn President Susan Herbst say it's an honor to be picked for the game. Mike Whalen, director of the Morale Entertainment Foundation, says UConn's opponent could be Kansas, Texas, Florida, Arizona or Illinois.

The inaugural Carrier Classic will be played on Nov. 11 - Veterans Day - between North Carolina and Michigan State on the flight deck of the USS Carl Vinson at North Island Naval Air Station, across the bay from downtown San Diego. It will be the first NCAA hoops game on an active flat top.
"I think it's an incredible honor," coach Jim Calhoun said. "I think it's an event that hopefully will give our kids a better understanding of just how important our country is. … I can't imagine a better learning experience than seeing those guys, on that ship, who are protecting our country."

This will be the second Carrier Classic; the first is taking place on November 11, 2011, when the North Carolina Tar Heels face Michigan State on the USS Carl Vinson off San Diego Bay.

"To me, it sounded like the coolest thing, to be able to celebrate our veterans on the aircraft carrier," UConn President Susan Herbst said. "It sounded so unique and amazing that we just couldn't pass it up."

We couldn't agree more. It'll get plenty of national attention and, as Calhoun notes, any opportunity to "give our kids a better understanding of just how important our country is" is worth seizing.

Calhoun's comments also raise another issue: while he didn't come out and say it, we wonder if it's safe to assume that he plans on coaching after this season, too. We'd long been convinced that he wasn't retiring this offseason and Drummond's arrival sealed the deal. But there's reason to believe Drummond, Jeremy Lamb and even Alex Oriakhi could leave for the NBA next spring, too.
Maybe that would affect Calhoun's decision ... then again, we can't imagine the man ever retiring. He may talk about it from time to time but we'll believe it when we see it.