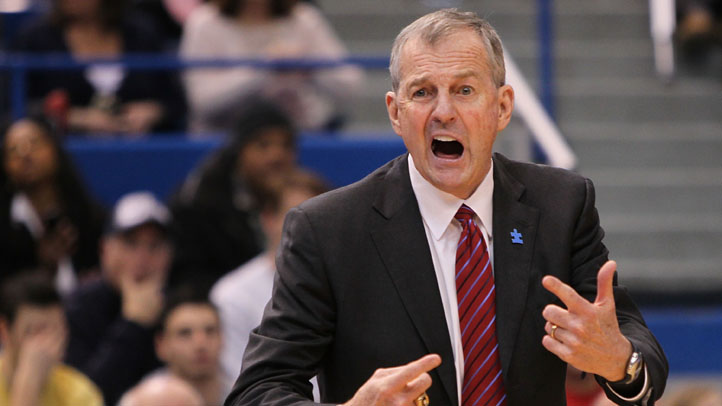 The 2012-13 basketball season has already gotten off to a bad start and we're still six months from the first game. The NCAA has banned UConn from postseason play for underwhelming APR scores, five players have left the program, and there is only one highly recruited freshman, Omar Calhoun, coming to Storrs.

But the 2011 NCAA champions will still get plenty of national exposure next season. They're set to appear in the 2012 Carrier Classic, an event which featured UNC and Michigan State in 2011, as well as the Jimmy V Classic. Details via a statement released by the university Wednesday:

"The University of Connecticut men's basketball team will make its first appearance in the Jimmy V Basketball Classic when it challenges North Carolina State on Dec. 4, 2012, at Madison Square Garden.

"Announced Wednesday morning by ESPN, which sponsors the annual event for the V Foundation for Cancer Research, the UConn-North Carolina State game is scheduled to begin at 9 p.m. as the second half of a doubleheader that will feature Georgetown against Texas at 7 p.m. Both games will be televised by ESPN.

"UConn and North Carolina State are each coming off 2012 NCAA Tournament appearances. The Huskies, 20-14 last season, bowed out with a loss to Iowa State in the tourney's second round, while the Wolfpack, 24-13, lost to Kansas in the Sweet 16."

NC State has one of the nation's top recruiting classes and is coming of a Sweet 16 appearance in March's NCAA Tournament. Long considered the second-class citizens of the ACC while other local schools like North Carolina and Duke flourished, the Wolfpack are poised to become a player on the national stage.

This will be UConn's first appearance in the Jimmy V Classic.

The school also announced that the UConn women's team will be appearing in the Jimmy V Women's Classic, facing Maryland on December 3 at 7 p.m. either at Gampel Pavilion or the XL Center. It will be the fifth appearance for the Huskies, who split their previous four appearances.