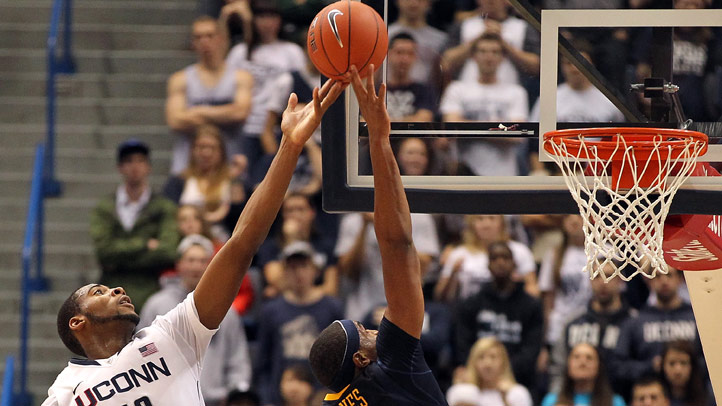 UConn's first opponent, No. 8 Iowa State, is well aware of the Huskies' front-court presence. Cyclones coach Fred Hoiberg said as much earlier this week.

"Well, first of all, they're huge. With [Alex] Oriakhi and [Andre] Drummond, it's tough to score against them in the paint. And then you have Roscoe Smith at 6-foot-8 starting at the three. They're the biggest, longest front court we'll play all year."

Size hasn't been an issue for the Huskies -- it's been consistency. But the unevenness from one game to the next isn't all that surprising; Drummond, the nation's No. 1 high school recruit a year ago, is still finding his way. Same holds for sophomore Roscoe Smith who sometimes seems to struggle with confidence. Oriakhi, a junior, had similar issues a year ago and earlier this season, but coach Jim Calhoun identified him as one of the team's most physical players.

But if UConn is to have a chance to advance in the NCAA Tournament, they're going to need big efforts from, well, everybody. Jeremy Lamb and Shabazz Napier are the most obvious examples, but Iowa State excels from behind the arc. And if Calhoun goes to a smaller lineup to defend it, Drummond and the big men could decide the outcome. The coach, more than anyone, understands this. But he also understands that Drummond was in high school 10 months ago.

"He's a baby," Calhoun said according to the Hartford Courant's Dom Amore. "We're telling you, as big as he may be, he is a baby. He's a wonderful young kid, and I really get into him privately about [it]. I don't care what he does, he's got to compete."

Assistant coach Glen Miller explained that it's been a learning process for Drummond, who could do just about what ever he wanted against the prep players he faced last year.

"In high school, he was doing things you haven't seen him do here," Miller said, "bringing the ball up court, throwing behind-the-back passes. He doesn't need to do those things here. … He has to learn that he can't take plays off."

And that is the biggest difference: in high school 75-85 percent was plenty to get the job done. Against some of the best college players on the planet that type of effort will get you beat every time you take the court. This isn't to say Drummond's lazy -- he's not -- it's to point out that he's still a teenager finding his way both as a person and a player. (Some perspective: Drummond was a few months old when Ray Allen was a freshman at UConn in 1993.)

"I think the biggest thing has been my maturity as a player and a person," Drummond said of where he has grown since arriving in Storrs.
Of course, there's no guarantee that he'll be back next season. Given his physical presence and basketball potential, it's reasonable to think he might leave for the NBA this summer. Drummond says he's not thinking about it ("I'm focusing on the here and now") and neither should the Huskies. For now, they need to focus on stopping Iowa State. Because if they win that game, they'll be up against Kentucky, the tournament's No. 1 team.