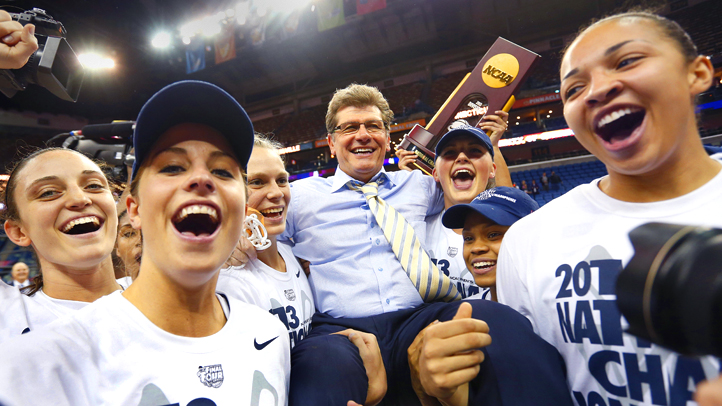 It was one of the best rivalries in women's college basketball: Notre Dame vs. UConn. For much of the last three seasons, the Fighting Irish had their way with the Huskies, defeating them twice in the Final Four. That changed last season when UConn finally broke through and won its eighth championship. But with the Huskies now in the American Athletic Conference and Notre Dame headed to the ACC, said rivalry appeared to die with the Big East Conference we once knew.

Except there's a glimmer of hope that the Huskies-Irish get-togethers can resume in a year's time.

"I actually met with Geno (last) week and I'll be reaching out to Notre Dame," UConn senior women's administrator Deb Corum said Friday, via SNY.com. "We had some conversations early on when it was first announced that Notre Dame was leaving (for the ACC). "But a lot has changed since then. Notre Dame called. They were interested in playing us this year but our schedule was full. From that we're assuming that Notre Dame would be interested in playing us so we're going to be reaching out to them in the next week or so to see if we can get them on our schedule."

More details of this rivalry from SNY.com:
UConn leads the series with Notre Dame 30-11. It began on Jan. 18, 1996 — the Irish's first season in the Big East. The Huskies won the first 11 meetings and at one time had a 28-4 advantage. But Notre Dame then won seven of eight, including the first triple-overtime game in UConn history last March 4 in South Bend and its first Big East tournament championship game over the Huskies eight days later. UConn did get the last laugh on April 7 by ousting Notre Dame 83-65 in the NCAA Final Four semifinals in New Orleans en route to its record tying eighth national championship.

The teams have met four times in the Final Four semifinals with Notre Dame owning a 3-1 edge thanks to victories in 2001, 2011, and 2012. UConn won 10-of-11 in Big East tournament play and was 6-1 in title games.
And hopefully, the Huskies and Irish will face off again in the very near future. If not in the 2014 NCAA Tournament, then at some point in the 2014-15 season.