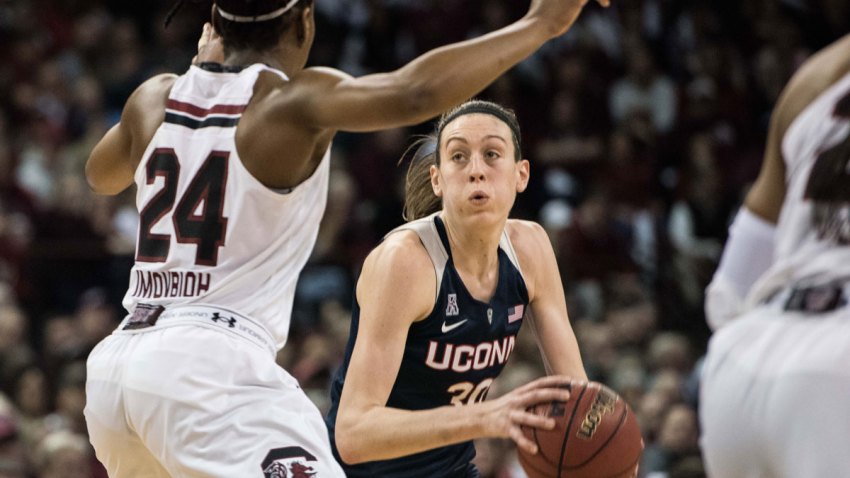 UConn is one win away from completing another season at No. 1.
The undefeated Huskies have gone wire-to-wire as the top choice in The Associated Press women's basketball poll all year. If they can beat No. 21 South Florida on Monday night, UConn (31-0) will cap off its sixth season as the top team in every poll.
The Huskies did face a small blip on the radar when they trailed the Bulls at the half of their game last Monday. UConn was trailing at the half for the first time in nearly a year before winning by 20 points.
Despite the loss, South Florida has a lot of confidence heading into the American Athletic Conference title game.
"Our mindset is that they're beatable," Williams said Sunday night. "We beat them in the first half. We let up in the third. They made shots. They're going to do that. So we just have to answer. If we would have went bucket for bucket, we would have won the game. So I think that just showed us, this team is beatable and we have the potential to beat them."
If UConn does win, it will be the Huskies' 69th consecutive victory, moving them within one of the second longest streak in school history set from November 2001 to March 2003.
Not much changed at the top of the poll as the first five teams remained the same with Notre Dame, South Carolina, Baylor and Maryland following UConn.
The Irish, Gamecocks and Terrapins all won their conference championships tournaments over the weekend. Baylor plays Monday night against No. 7 Texas for the Big 12 title.
Copyright AP - Associated Press