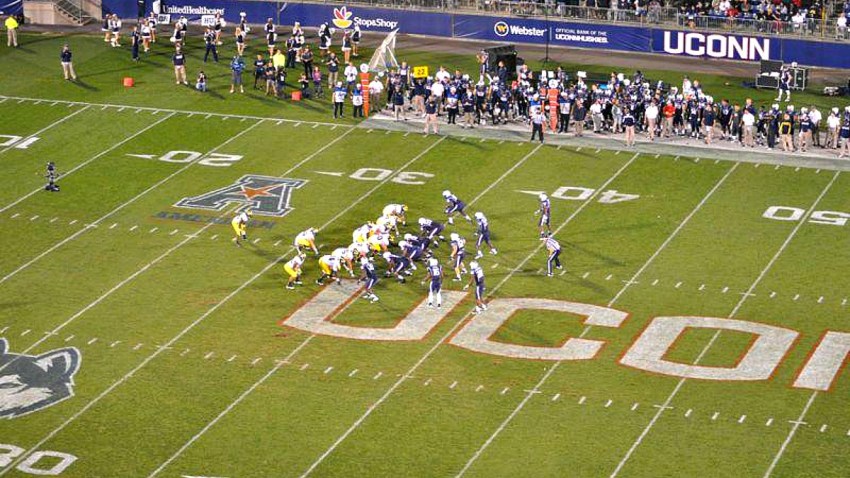 The Huskies will open their 2014 football schedule on national television Friday, August 29 when they face BYU at Rentschler Field. ESPN will air the game. Kickoff is set for 8 p.m. and UConn will play a return game at BYU on Oct. 31, 2015.

"It is a great honor to be selected by ESPN to be the Friday night national game to begin the 2014 college football season," UConn coach Bob Diaco said. "The matchup between two nationally-recognized teams with UConn vs. BYU will provide an electric game day atmosphere at Rentschler Field. The excitement created with our new UConn team and fan experience will prove to make August 29th an unforgettable night at The Rent!"

This will Diaco's first game leading the Huskies. He was hired after UConn finished the 2013 season with a 3-9 mark. The team started 0-9, and the previous coach, Paul Pasqualoni, was fired a month into the season. The two previous years, Pasqualoni led the Huskies to 5-7 records. The year before Pasqualoni was hired, UConn won the Big East and played Oklahoma in the Fiesta Bowl.

Diaco -- and athletic director Warde Manuel -- hope to get the program back in the national conversation. Not surprisingly, that starts with recruiting.

"There are 58 million people in the northeast corridor," Diaco said back in December shortly after he was hired. "There are more than enough prospective student-athletes to collect about 25 per year for UConn. There's no doubt about that. Speaking about Connecticut in general, there are some very talented Connecticut football players on our team right now, which is excellent, and there are also, unfortunately, a whole bunch of Connecticut players that have created winning season and championships for other teams around the country.

"Moving forward, we'll do our due diligence here in the state to make sure that every coach feels valued, every coach has access, every one of these, I think, its 169 spectacularly prideful cities have an opportunity and access to UConn Husky football, and go from there, and then recruit the Northeast corridor as our footprint."