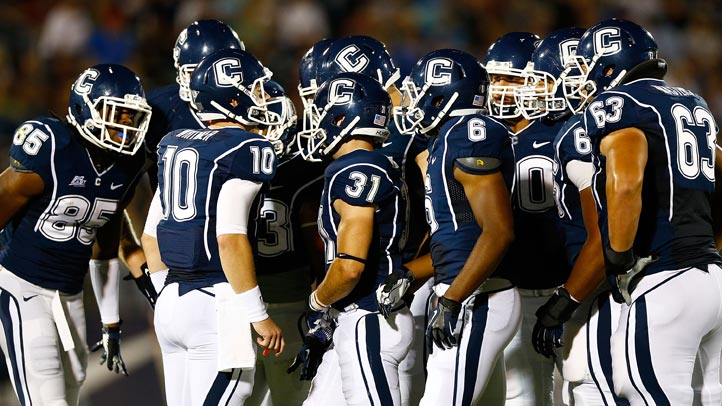 This 2012 Huskies team has a ton of potential but through four games they haven't been able to sustain any consistency. That explains the inexplicable loss to Western Michigan two Saturdays ago, and it also sheds some light on UConn's 24-17 win against Buffalo this weekend.

Redshirt sophomore quarterback Chandler Whitmer has been an upgrade at the position, but we've noted on several occasions this season that he has to do a better job looking off defenders before targeting his receivers. He did that time and again against the Bulls, completing 15 of 22 passes for 227 yards, 1 TD and no turnovers for the first time all year.

Despite the victory against the last non-conference opponent on the regular-season schedule, the Huskies looked anything but dominant. They beat Buffalo, a member of the MAC, by seven points and it could've been closer than that. And while the Huskies' usually stout defense has shown signs of cracking in recent weeks (they allowed quarterback Alex Zordich to rush for 74 yards, and allowed a trick-play screen pass to Brandon Murie to turn into a 50-yard touchdown), the offense appears to be coming together.

In addition to Whitmer's progress, the running game, for the first time all season, also showed up. Lyle McCombs rushed for 97 yards and Martin Hyppolite ripped off a 50-yard TD jaunt around the right side that gave the Huskies a 17-7 lead before the half.

Overall, coach Paul Pasqualoni seemed pleased with his team's performance with the full understanding that there's plenty of room for improvement.

"The offense did their part here today, the defense did their part," Pasqualoni said on the field afterwards. "I really thought it was a good team win, hard-fought game, got to give Buffalo credit, you know, they do a great job, and just a good hard-fought football game."

Despite 141 rushing yards, including several big plays, Pasqualoni was pleased with his defense, too.

"(Our D) plays the run pretty good, you know, and fundamentally, they're working hard every day to get better," he said. "We've got some athletes, we've got a few guys who can run. But mostly they just try hard, they give excellent effort and they play up to their talent level. It's a good group of kids."

Next up: the Huskies travel to New Jersey to face the 4-0 Rutgers Scarlet Knights.